NEW: Get DriveHUD 2 + Integrated Version of the Asian Hand Converter (For a massive discount!!)
We're excited to announce our latest DriveHUD 2 + Asian Hand Converter Packages!
These new packages combine two of our most popular products at a BIG discount. At just $16.5 a month, you get Asian Hand Converter plus DriveHUD 2 for FREE as opposed to $29 a month for just Asian Hand Converter.
Get DriveHUD 2 + Asian Hand Converter package HERE (and play on sites like Pokerbros, PPPoker, X-poker, Suprema, Red Dragon, Poker King and more, at a massive discount!)
What DriveHUD 2 can do for you
Population Stats In HUD – Run a population report and include it in any HUD. See what most opponents are doing on average for your site, and how much their stats deviate from the population.
User-Created Quiz Generator – Create a custom quiz of your choice for any aspect of your game. Pre-flop play, 3-bet pots, Turn play, and so on. Create it, and allow DriveHUD2 to test your knowledge!
Fully Re-optimized (Up To 8x Faster Than DriveHUD 1) – Faster loading reports, hand re-player, graphing, and HUD loading. All areas of DriveHUD2 have been re-optimized for improved performance.
New Interface With 2 Skin Options – Dark and light theme options now available.
Filter Building Language – Ability to create any filter for any scenario you can think of with DriveHUD's new filter building language.
New R&D Section – Create custom graphs and deep dive into any poker scenario to quickly see what sizing, or post flop lines are generating you the highest EV, or costing you the most to your bottom line.
New HUD Designer – Revamped HUD designer with two ways to design a HUD. Use Drag & Drop functionality to create a solid HUD, or go more in depth with a completely new pop-up designer that will create countless data points for you to consider.
About Asian Hand Converter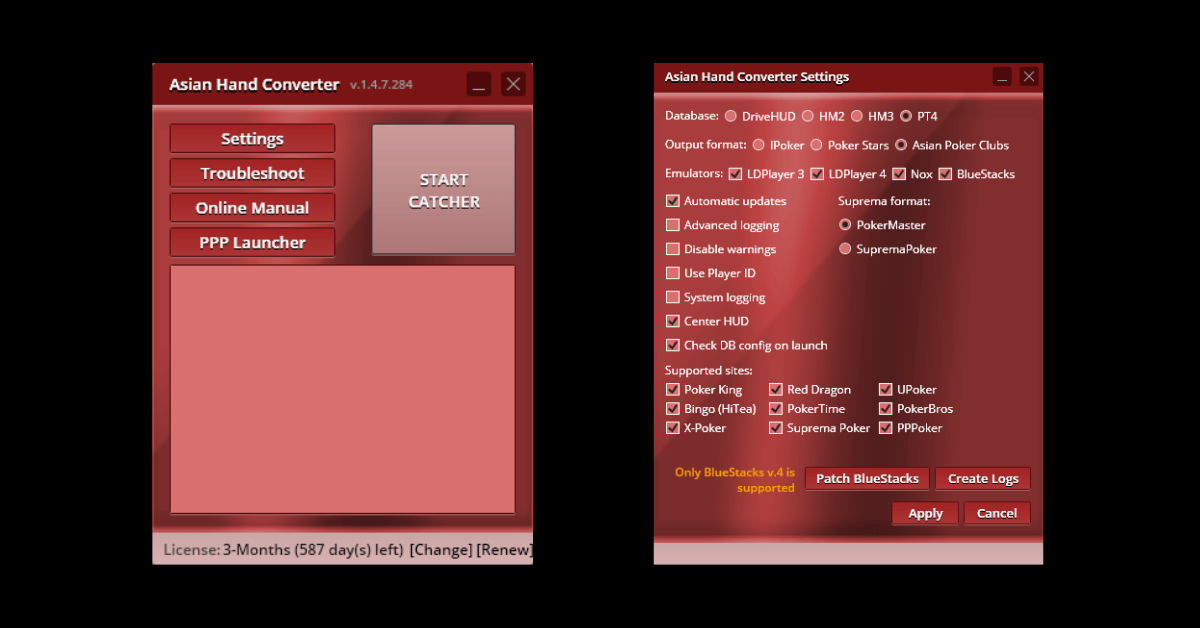 The Asian hand converter allows you to track your online poker games and run a HUD on several popular Asian poker applications. It supports PokerBros, PPPoker, Upoker HUD, X-Poker, Suprema poker, Poker King HUD, Red Dragon, Bingo Poker (formerly Hi-tea), and PokerTime. The Asian hand converter will track observed tables, as well as the game you're playing. All game types, cash, and tournaments are tracked.