Introducing WPT Global HUD Support for Asian Hand Converter and DriveHUD 2
In the world of online poker, staying ahead of the curve is essential. That's why we're excited to announce that Asian Hand Converter now supports a HUD display for the renowned poker site, WPT Global. This is a significant development for both our standalone version and the integrated version within DriveHUD 2, offering players a seamless and insightful experience while playing on WPT Global.
WPT Global: A Brief Overview
At WPT Global, the focus is on bringing their wealth of experience from running some of the world's best poker games to the online poker community. They provide a secure and exciting platform for poker players of all levels, from beginners to experts. With a commitment to game integrity, player safety, and responsible gaming, WPT Global has become a trusted name in the online poker world.
Key Features of WPT Global:
Learn How to Play Poker: WPT Global offers an extensive resource for learning poker, covering everything from hand rankings to various poker variants like Texas hold'em and 6+ hold'em. Their intuitive platform makes it easy for players to get started.
Poker Tournaments: Building on its legacy of televised poker games, WPT Global provides the ultimate online poker platform. Players can test their skills in online poker series, flagship Sunday tournaments, freerolls, and exclusive qualifiers to prestigious live poker events.
Safety and Security: Player safety is paramount at WPT Global. Their state-of-the-art security features ensure secure deposits and fair play at the tables. They are committed to upholding the highest standards of game integrity and responsible gaming.
Variety of Poker Games: WPT Global offers a wide range of poker games suitable for all bankrolls and preferences. From freerolls for beginners to major online poker tournaments, players can find their preferred poker experience. The availability of cash games, including no-limit Texas hold'em, ensures there's something for everyone, 24/7.
Asian Hand Converter & DriveHUD 2 Integration:
Our Asian Hand Converter, in conjunction with DriveHUD 2, enhances the WPT Global experience. Players can now access a comprehensive HUD display, providing valuable insights into their gameplay and that of their opponents. This integration empowers poker enthusiasts to make more informed decisions at the virtual tables on WPT Global.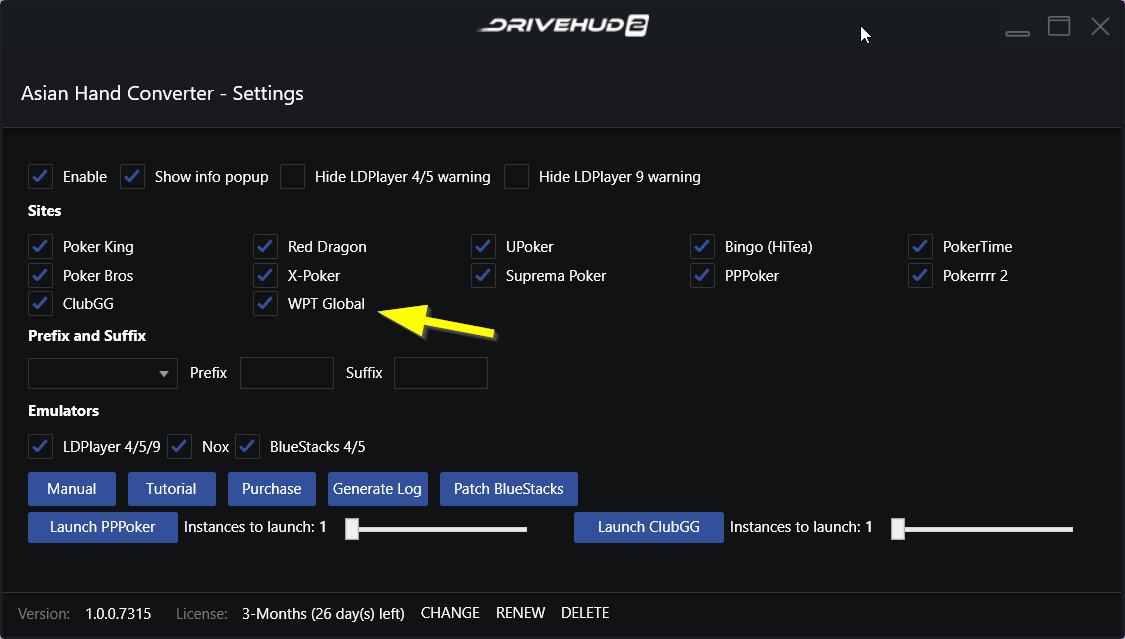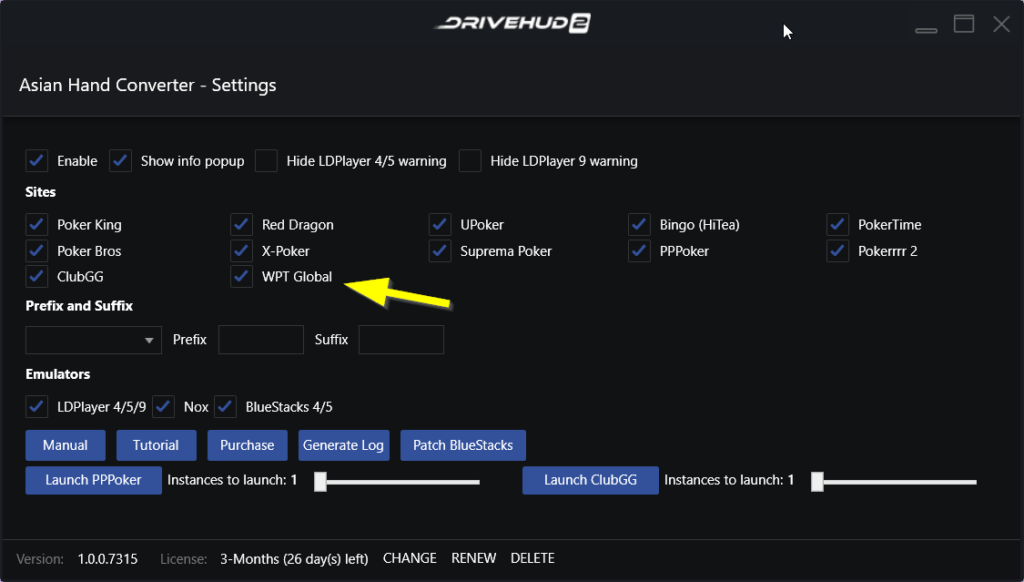 In conclusion, the Asian Hand Converter's support for the WPT Global HUD, both as a standalone version and within DriveHUD 2, is a significant step forward in the world of online poker. With WPT Global's commitment to offering a secure and enjoyable poker environment, coupled with our tools' insightful HUD features, players can look forward to an enriched online poker experience.
Stay ahead of the competition and experience the WPT Global HUD today with the Asian Hand Converter and DriveHUD 2. Elevate your poker game and enjoy the thrill of online poker like never before on WPT Global.
Download Asian Hand Converter today, explore the new HUD features, and take your online poker game to the next level!