If you have started playing poker online, you must have heard about using pokerhud by many other online players. If you are not using any pokerhud yet, you are just wasting an opportunity to boost your win rate. The reason is that most of your opponents who play online poker use pokerhuds and many other software tools; and that is the reason why they always seem to have an upper hand on you.
Pokerhud
Well not to worry much because it is never too late to make a better decision.  Let's learn a few essentials about Poker HUDs in this post. Are they even legal? How you can choose a good poker hud for yourself? And is it possible to win without a poker hud? We will know all of this in today's post.
Is Pokerhud legal?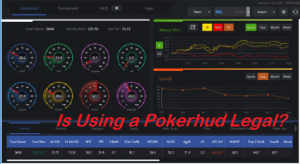 Yes. Pokerhuds are legal and most of the online poker platforms allow pokerhud or any other software tool that players may want to use during their gameplay.  This question is usually raised by some players who are regular users of a few platforms that discourage the use of pokerhuds.  While some poker platforms such as Ignition Poker and Party Poker don't allow HUDs on their sites, there are plenty of other popular sites that don't mind pokerhuds.
Can you win without a pokerhud?
Yes. You can win a poker game without using pokerhud. However, by using a poker hud, you are destined to win more. By not choosing to use a poker hud, you are just decreasing your chances of being better at what you play.
Poker is a probability game and you must have stats in your hands to calculate any probability. But is poker only about statistics and probability? No! It's also about intuition and trusting your gut. It is about 'feeling' your opponents intentions beforehand which any software or hardware tool cannot do for you. Also, the stats that pokerhuds provide you should not overwhelm you or confuse you. You shouldn't lose focus among many statistics that update regularly while you play.
It is also true that the human mind has a limit to managing stats and memorizing the moves of others. This is where poker huds are very handy. They not only track others' moves and but also your hand history so that you could analyze your own performance before any others. You can easily look back and see where you made the right moves and the areas where you could improve.
Hence, while using a pokerhud, you must think about it as a tool that is assisting you in making the right decisions.  Poker HUD is surely an important thing, but it is not everything.
Where to find the best pokerhud?
Pokerhuds are of two main types' paid and free. While free poker huds do their job just right, they have their own drawbacks. If you are serious about your poker career, it is better to choose a paid poker hud that comes with many useful features as compared to a free poker hud.
Poker huds like DriveHUD are very easy to use. This is a great help for those players who are new to the online poker world.