Poker HUD 101 | Basics and Useful Information
If you play online poker, you need a Poker HUD to remain competitive in the game. No matter what level your game experience and intuition is, if you don't have a Poker HUD under your sleeve, your opponents are always going to be a step ahead of you. Here is a little guide on how a poker HUD is defined, how can you use a Poker HUD  while playing online poker, how it helps you get better in your game and additional information that you'll want to know about HUDs in poker. 
Poker HUD keeps track of your performance
Poker HUD allows you to play multiple tables and win more
Does the Poker HUD guarantee win?
Relying completely on a poker HUD
Why some sites have banned poker HUDs?
How to choose the best Poker HUD?
No need to spend too much on a poker HUD
What is Poker HUD?
What is Poker HUD?
A Poker HUD (short for Heads Up Display) is a computer program/software/application that collects and displays important statistics about your opponent while playing a poker game. These statistics are displayed as numbers on a small display area over your poker table. These numbers and statistics give you an overall idea of how a particular opponent has been playing his previous hands.  These stats also give you an idea of whether your opponent is an aggressive player or a defensive one; does he like to bluff more or does he call his cards with respect to what he actually has in his hands? Hence, you get workable information about your opponent and he is not a stranger to you anymore, even though you are playing against each other for the first time.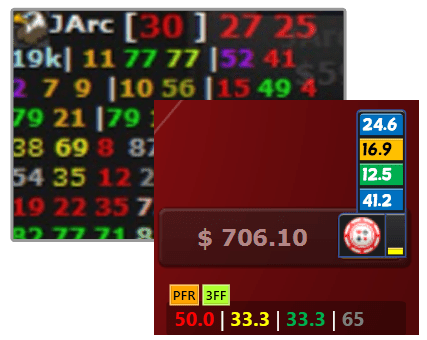 You may have been playing online poker without a poker HUD for some time now. By using one, you will come to know that it's a completely different experience. You find yourself at a different level of the game altogether and consider yourself prepared enough and confident enough to take on anyone. This is because the Poker HUD provides you a number/hint for every difficult situation you face. There is never a dead end as long as you are using a Poker HUD. Using a Poker HUD is all about this experience and this feeling of being able to play against anyone. 
In the sections below, we will talk more about the features of a poker HUD. Now let's talk about how a Poker HUD looks like. 
Poker HUD Attributes 
Poker HUD Attributes 
A Poker HUD has the following attributes:
1- It overlays a small portion of your Poker table and shows the statistics of your opponents.
2- The Poker HUD statistics don't hamper your gameplay at all. 
A poker HUD helps you understand your opponent and never intrudes on your gameplay. This is one of the basic and most important attributes of any HUD that you choose to use.  The HUD interface is designed in such a manner that it appears to be a part of the game table (though it actually isn't). Usually, a HUD displays the statistics of each opponent in the form of a small table below each opponent's name. So there is never a question of distraction or lack of concentration in the game while using a HUD.  
Why Do I need a Poker HUD?
Why Do I need a Poker HUD?
Why shouldn't you? Every player who spends money on online poker should use a poker HUD. Unless you play for fun once every four weekends, a poker HUD is a must-have tool for you.  A poker HUD makes you half-prepared for the game, and you know it's thousands of times better than sitting on the table having no clue at all about what's going to happen next. Here are the main benefits of using a poker HUD with a little explanation for each one.
Poker HUD keeps track of your performance
Poker HUD keeps track of your performance
If you are serious about your online poker game and want to improve with each game you play, a poker HUD is the best tool to help you achieve that. A poker HUD not only keeps track of your opponents' hands but also stores the statistics of all the hands that you have played.  This helps you revisit your game style and see where you played well and where you were at fault. Some good poker HUDs elaborate your performance and convert the numbers into graphs which helps you understand your performance better. 
Reviewing your performance allows you to improve and take better decisions when you play on your next poker game. 
Poker HUD allows you to play multiple tables and win more
Poker HUD allows you to play multiple tables and win more
In online poker, you can always play multiple tables at a time, but can you control the quality of the game on each table without a Poker HUD? The honest answer is No. It is very hard for a player to keep track of multiple tables and moves from opponents. With the help of a Poker HUD, you don't need to remember anything about your previous hands on any table. All you have to do is take a look at your statistics and make a decision. Having a grip on multiple tables means increased chances of winning at every table.
Poker HUD improves your game
Poker HUD improves your game
With all the statistics and figures about your opponents, you can make a well-thought move.  First of all, you know what level of the game your opponent plays. If he is a rookie, which will be obvious to you through his numbers, you can easily exploit his weaknesses and win. If the opponent is an experienced player, you can make a strategy according to his numbers.  It is important to know that only numbers can't win you a game; especially if your opponent is a seasoned player.  
For example, if your Poker HUD shows that your opponent is a highly defensive player and very often raises preflop, or bets on the flop, then the poker HUD tracks the number of times he does this and gives you a number. If this number is more than 60%, it's on the safe side to call more bluffs. As your opponent folds too much, you can safely bluff more times than usual. Similarly, if this number is below 50%, you know that your opponent is a balanced one so you don't need to bluff too much and call according to whatever is in your hands. 
How does Poker HUD work?
How does Poker HUD work?
While it is understood that a poker HUD shows all the important statistics of your opponents in the form of numbers, many don't even know where these numbers come from.
Online poker players go to different poker platforms/websites to participate in different poker games. While players are busy playing, these poker sites store the hand histories of all the players and tables.  Poker HUDs fetch the hand histories from these poker sites. HUDs can collect hand histories from multiple sites so if a player uses more than one poker website to play online poker, a poker HUD will easily track all of his hand histories from all the websites he plays on. 
After collecting the hand histories, poker HUDs analyze and process the information and convert them into numbers and percentages. They then display the most important numbers on a small table in an easy-to-understand format.  Apart from fetching the information from different poker sites, poker HUDs store the hand history of live playing sessions and update the statistics accordingly. 
Does the Poker HUD guarantee win? 
Does the Poker HUD guarantee win? 
A poker HUD is a tool that helps you understand your opponent; it is not simply a ticket to win every game that you play. This is one of the many misconceptions equally prevalent among new poker HUD users and those players who do not use the poker HUD.  
Relying completely on a poker HUD 
Relying completely on a poker HUD 
It is important to understand that knowing your opponent is just 20% of the game. The rest of the 80% is going to be decided by how you play your game, how you understand the available statistics, how the opponent plays his hands in the current game, and what strategy you employ to counter his moves. All of these factors combine to give you a result. 
 However, it is right to say here that if you don't use a HUD and rely on your intuition and game experience, you are clearly at a disadvantage because a considerable portion of your game time will be invested in understanding your opponent.  
Check the number of hands 
Check the number of hands 
One of the most common mistakes that even experienced poker players make is taking decisions based on poker HUD numbers without checking the number of hands played. In statistical terms, this is called the sample size. Although poker HUD stats show the behavior of the player, these stats can mislead you altogether if the sample size is too small. In other words, if the available numbers in the poker HUD are from very few hands played, they cannot correctly show the overall behavior of your opponent. Hence, you must check the sample size on which the HUD statistics are derived and rely on them only when the sample size is large enough.  
Are Poker HUDs illegal/Legal? 
Are Poker HUDs illegal/Legal? 
A poker HUD is a 100% legal tool that you can use to improve your game performance. Not only in poker, but many other online gamers also use HUDs to keep a track of their game performance.  
The question of legality arises when a few leading online poker platforms such as Party Poker restrict the use of poker HUDs on their platforms. 
Why some sites have banned poker HUDs? 
Why some sites have banned poker HUDs? 
According to Party Poker's updated policy about Poker HUDs, they want to provide a platform of equal opportunity and fair play for all the interested online poker players. It is very important to understand here that the majority of online poker players are not so serious about their game. They are either recreational players or they are newbies who don't know much about tools like poker HUDs that can enhance their gameplay. When faced against experienced players online, such rookie players tend to lose the one-sided match most of the time.  And when they lose too often, they lose interest in online poker, which no poker platform wants.  
Hence, to cater to the needs of recreational players and rookie players, who make the most of the site traffic on major poker platforms, some poker sites have banned the use of poker HUDs for all the players. Banning the HUDs is not linked to legality; it is done to attract and retain new players towards online poker.  
Some regular players are also in support of not using poker HUDs. They consider it an ethical problem where you exploit a less-experienced player and win by knowing him rather than playing through intuition. However, this concept can be respected but cannot be adopted altogether because it's a game in the end and one has to win and the other has to lose. 
If one player shows more seriousness towards the game and comes well-prepared beforehand, it cannot be called an ethical problem from his end. Moreover, since most of the regular online poker players use poker HUDs, it's all fair and square with equal opportunities of winning for all. When all participants use the HUD, those with better strategies and game decisions win.
How to choose the best Poker HUD? 
How to choose the best Poker HUD? 
With many poker HUDs available in the market and each claiming to be the best, it's always hard for a poker player to choose between the available poker HUDs. However, when you know what you want, things get easier. Using a poker HUD is all about having a nice game experience with all the important statistics at your disposal.  Here are some of the ways to find a poker HUD that you can actually use. 
Go for a paid poker HUD
Go for a paid poker HUD
Some free poker HUDs are available in the online world. These are not recommended because they don't provide you all the statistics that you need to remain competitive among professional players. Some of them are even fake HUDs that only harm your PC by infesting it with malware. So, it is advisable to use a paid poker HUD which is more reliable. 
No need to spend too much on a poker HUD
No need to spend too much on a poker HUD
A paid poker HUD always performs better than a free poker HUD. Having said that, you shouldn't be investing too much in buying a poker HUD.  A better way is to compare the prices and features of different poker HUDs and make a decision. You can always refer to online poker forums and social media channels where online poker is discussed. Another way is to use free trials of different poker HUDs and choose one that works for you. Making an informed decision when buying a HUD is important if you want to benefit from its features.