DriveHUD 2 – The NeXGEN Poker HUD & Database is here!
The day is finally here! DriveHUD 2 has officially launched!!
Everyone on the Ace Poker Solutions team is excited. We've combined and used a lot of technologies we've developed over the years, and combined them into a new database and HUD that we look forward to continuing to develop and expand on. This is a new beginning, my friends!
So what's NEW in DriveHUD 2 you ask?
New Interface With 2 skin Option – Dark / Light
Dark and light theme options now available.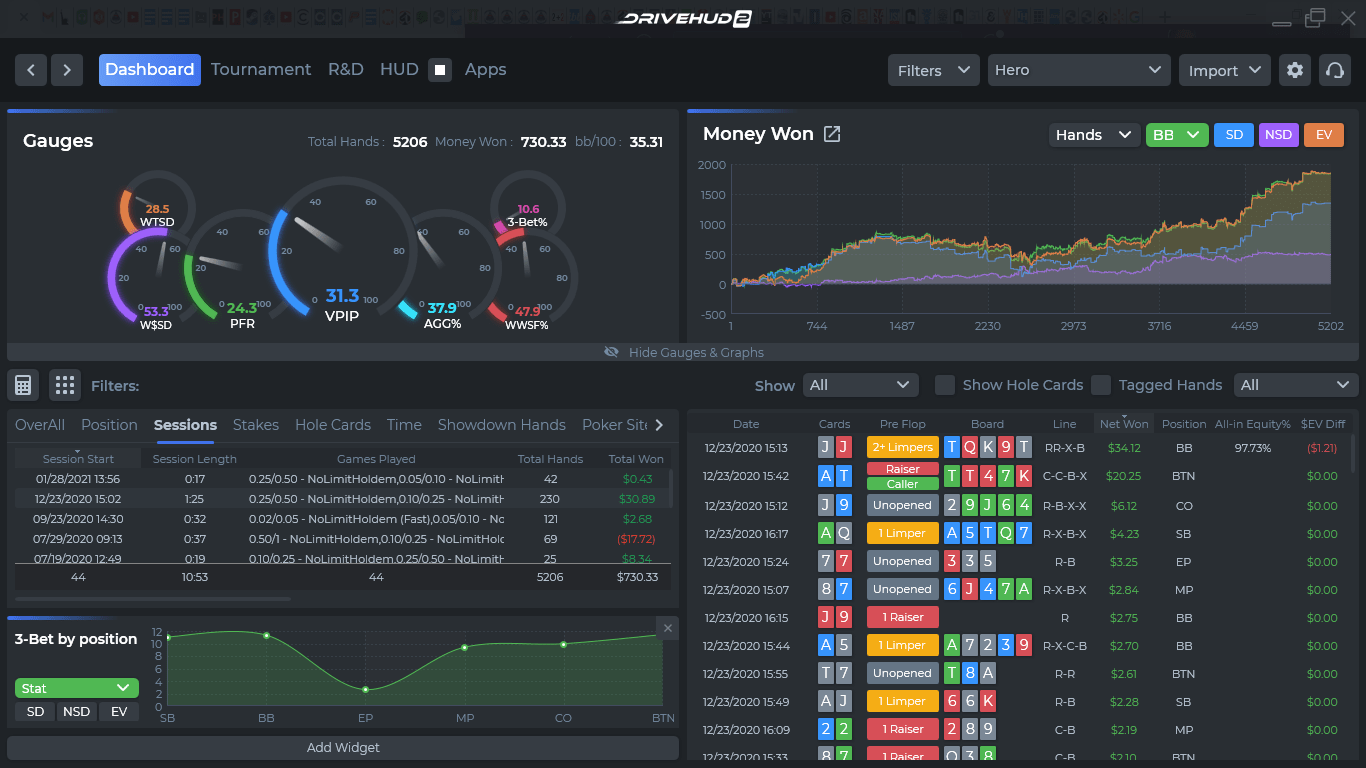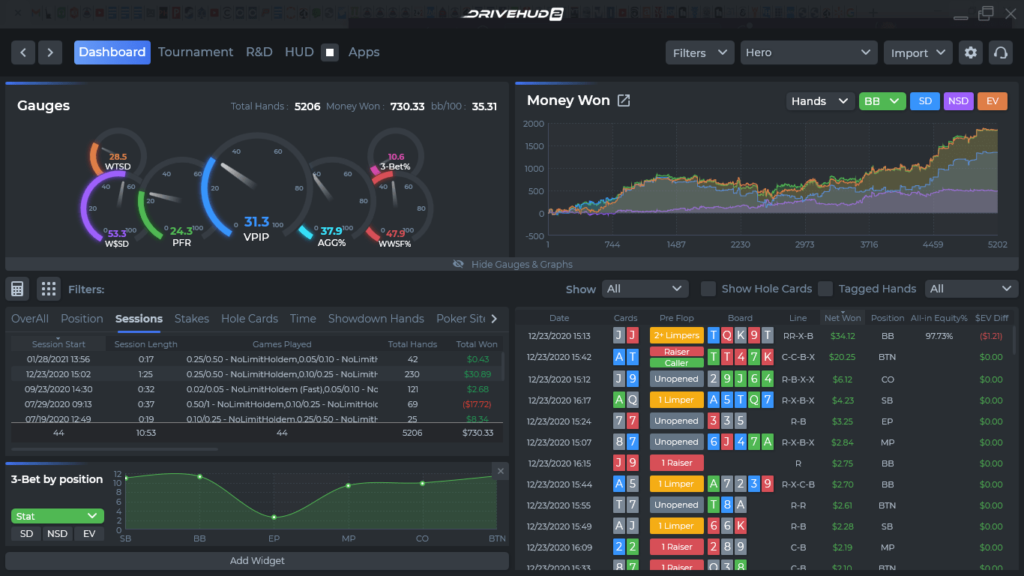 Filter Building Language
Ability to create any filter for any scenario you can think of with DriveHUD's new filter building language.

Ability To Create Any Stat
Don't see a stat you'd like? You can create as specific as a stat that you need, save, and apply to your HUD and reports in an instant. 

New R&D Section
Create custom graphs and deep dive into any poker scenario to quickly see what sizing, or post flop lines are generating you the highest EV, or costing you the most to your bottom line.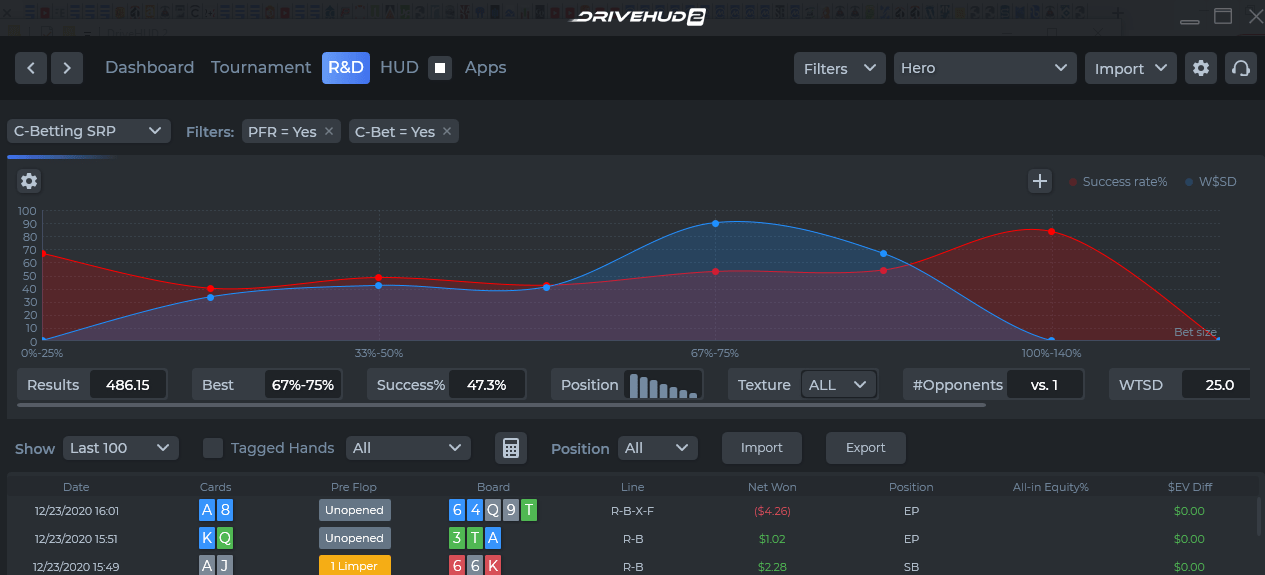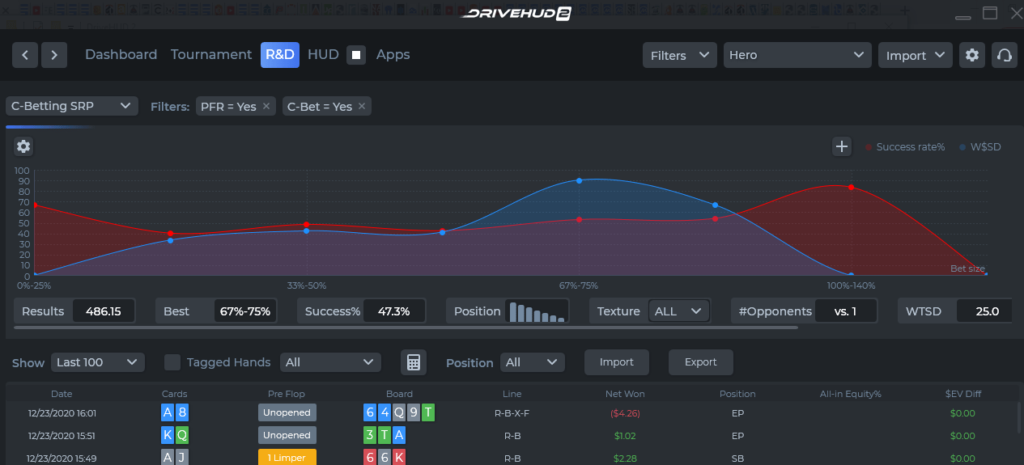 New HUD Designer
Revamped HUD designer with two ways to design a HUD. Use Drag&Drop functionality to create a solid HUD, or go more in depth with a completely new pop-up designer that will create countless data points for you to consider. New dynamic HUD options also allow for stat HUDs based on you or your opponents position at the table. New vs. Hero only stats.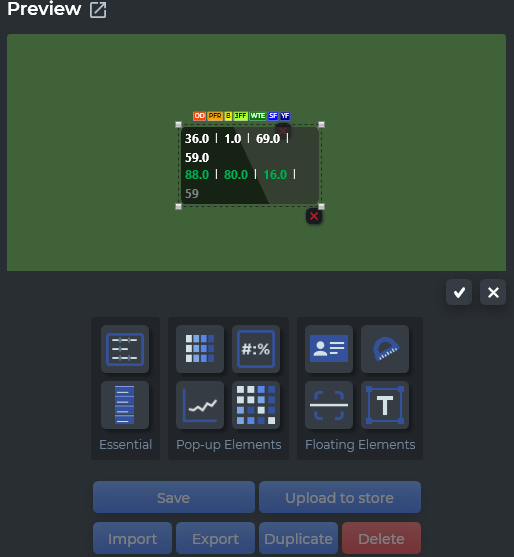 User Created Quiz Generator
Create a custom quiz of your choice for any aspect of your game. Pre-flop play, 3-bet pots, Turn play, and so on. Create it, and allow DriveHUD2 to test your knowledge!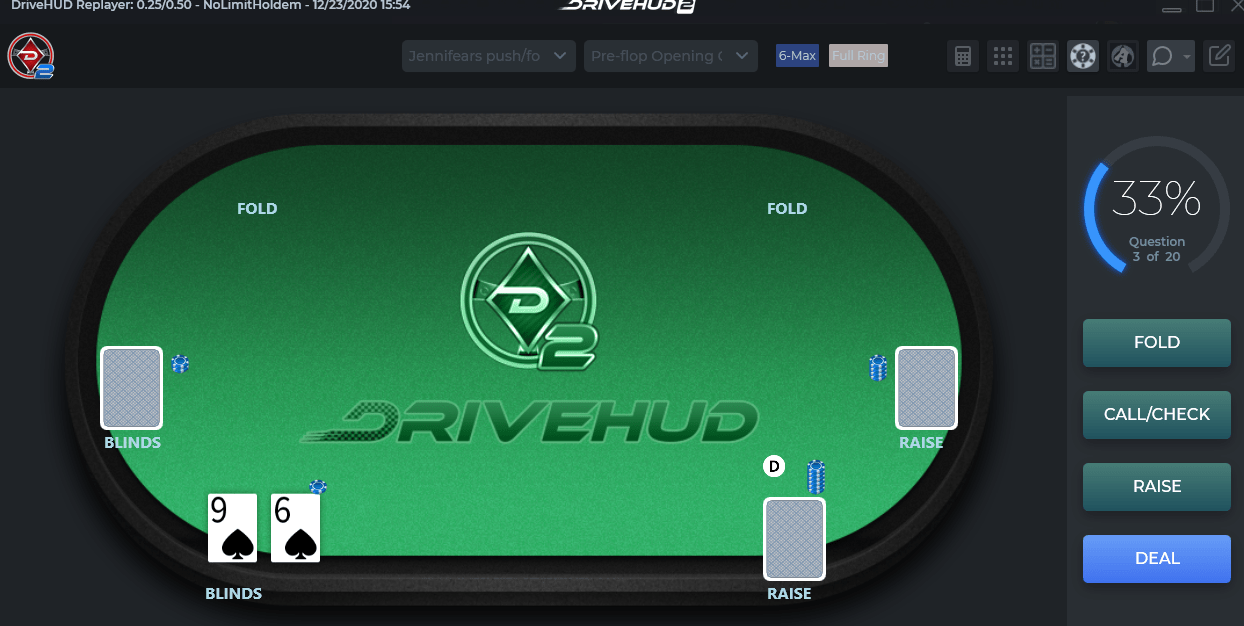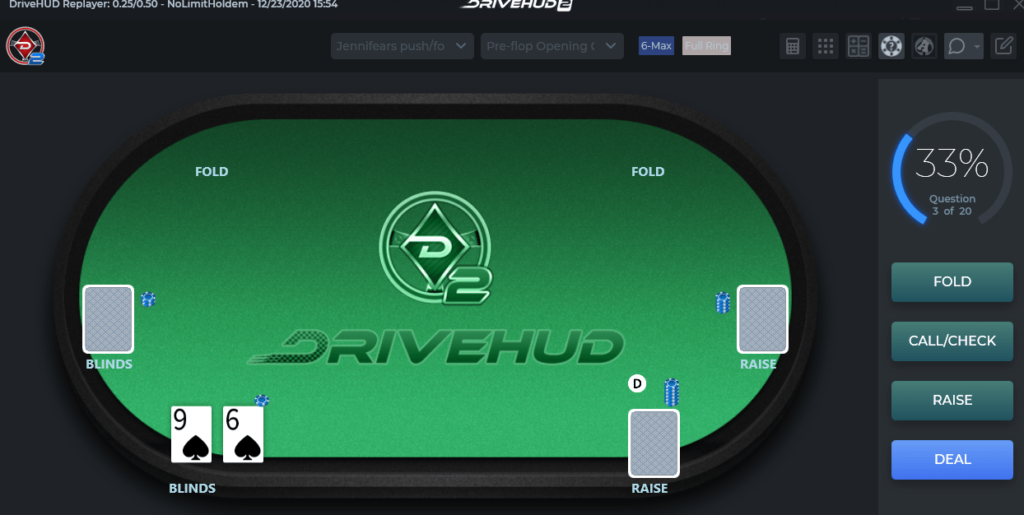 New HUD Store With Ability To Sell / Buy Your Own HUD
[Disabled in public beta] Now you can custom-build and sell any HUD in our HUD store. Make a great HUD, and make some money!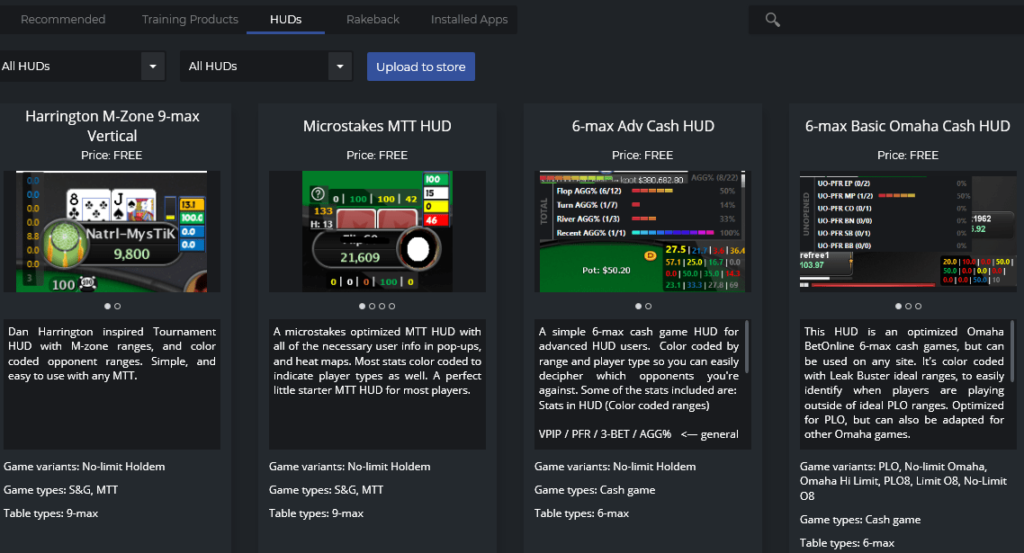 Population Stats In HUD
Run a population report and include it in any HUD. See what most opponents are doing on average for your site, and how much their stats deviate from the population.
Fully Re-optimized (Up To 8x Faster Than DH1)
Faster loading reports, hand re-player, graphing, and HUD loading. All areas of DriveHUD2 have been re-optimized for improved performance.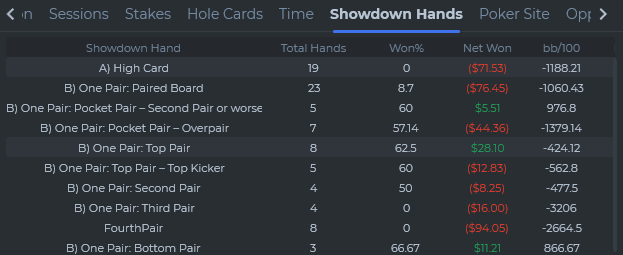 Widget Graphs
Create new quick view graphs for popular situations and keep close visual tabs on important parts of your game.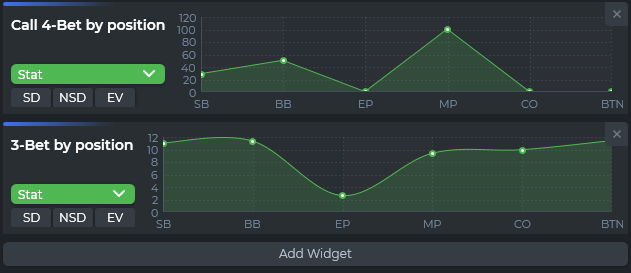 Create New Names For Reports / Or Create New Reports With Searchable Stats
New and easy way to create custom reports. Just enter a name and click on the stats you want added to that report.
ICM Calcs For Tournaments
New integrated ICM calculator integrated into tournament section and hand re-player.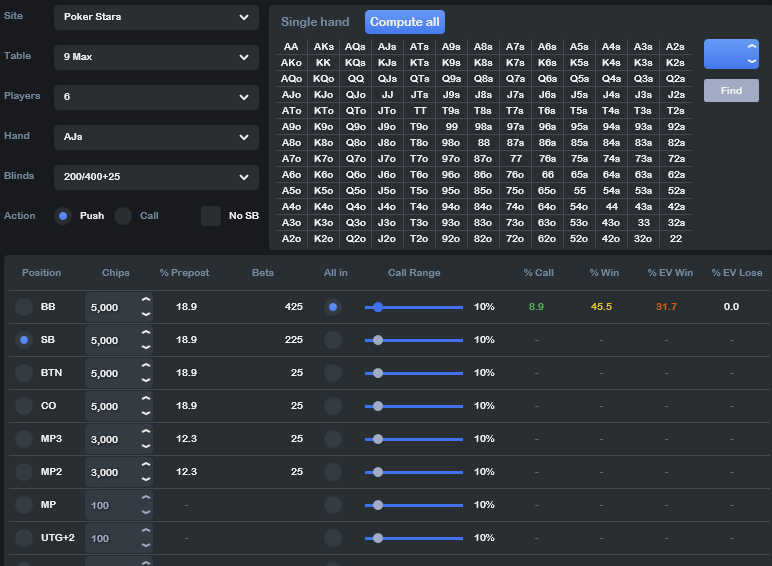 Omaha Equity Calcs
Omaha equity calculations added.

Hand Charts In HUD
Any custom hand chart created in DriveHUD can be added to a HUD for quick review and reference.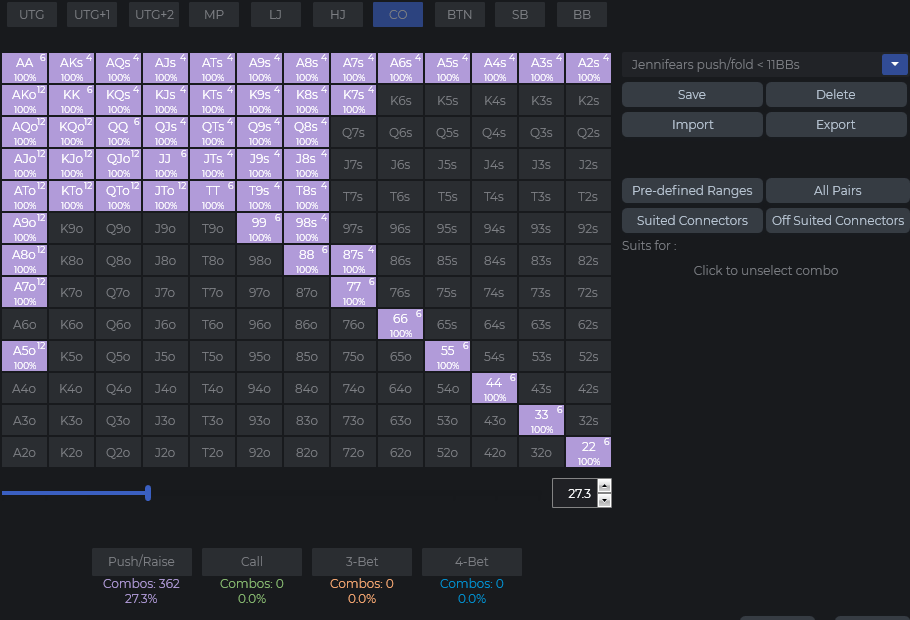 Hand Chart Deviation Analysis Report
DriveHUD will now tell you any hands that you've incorrectly played, based on your own custom created hand charts.

Vs. Hero Stats Added Into HUD
Know how your opponents are playing versus only you, and not just all opponents. 
Quick View Hand Range
Mouse over any stat in your sessions report to see a heat map hand history grid of every hand you played for that stat, along with won and lose amounts for each hand.

Copy / Paste Hands From Forums Into DriveHUD For Analysis
You'll be able to copy any hand from a forum into DriveHUD and run equity calculations and analyze hand ranges.
Re-designed Hand Re-player
It already looked great, but this one looks even better!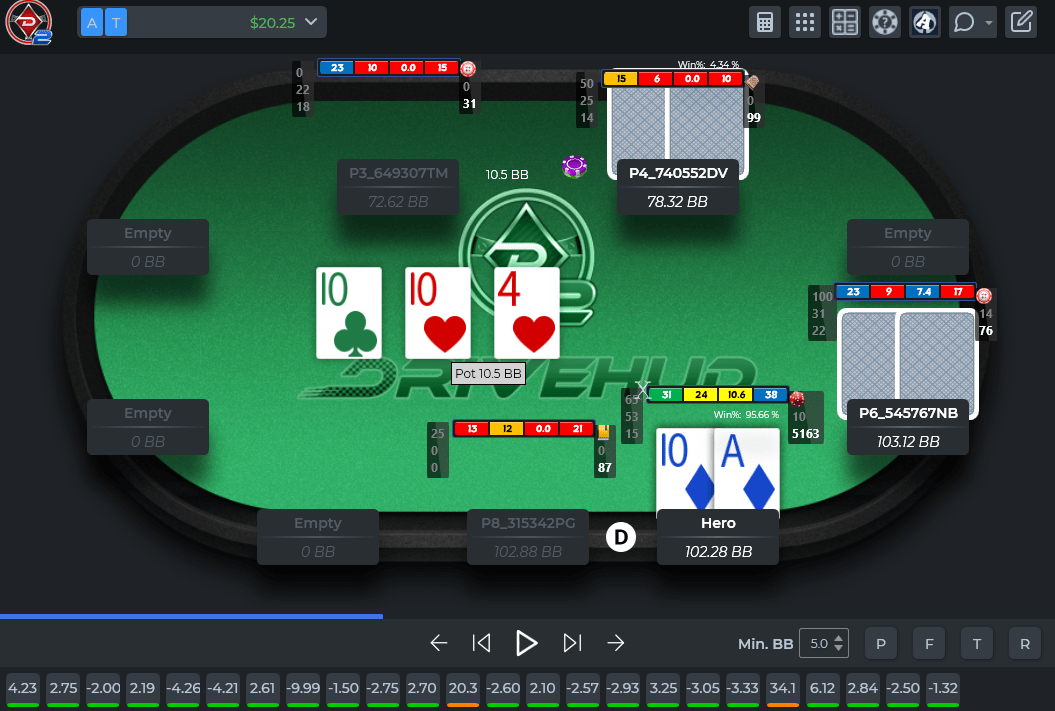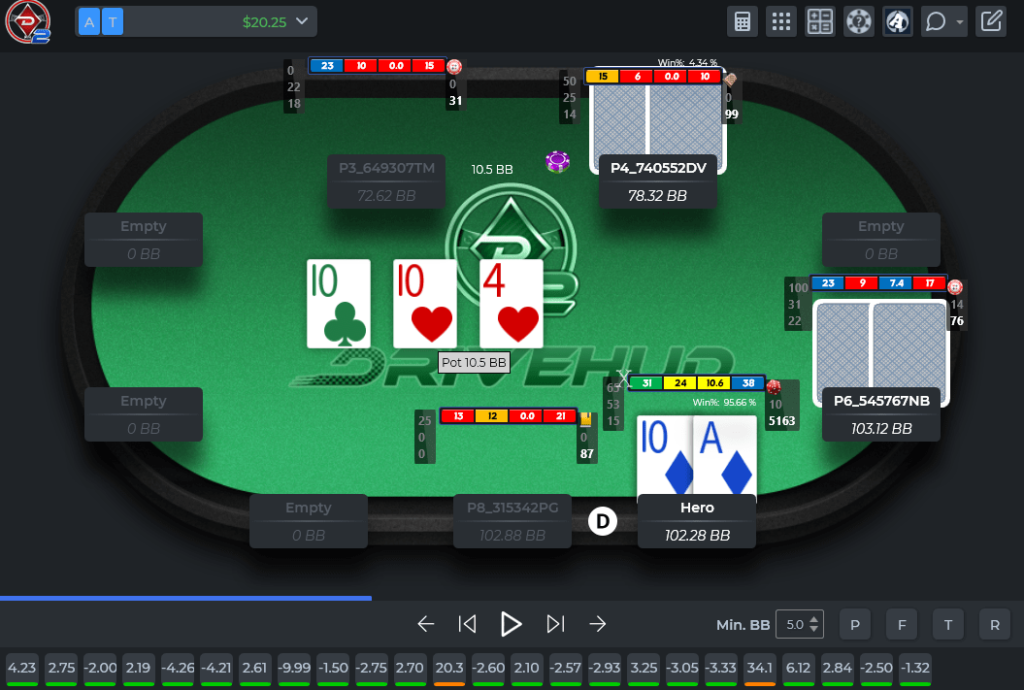 Improved Graphs
7 new graphing options, plus ability to export graphs to images. 

New Stats Added (Over 300+ New Stats)
Over three hundred+ new stats that can be added to any report or HUD.
LB2 Integration
Get instant feedback on your leaks in DH2 with Leak Buster 2 integration. Quickly know if you're playing outside of a profitable range of stats.
Live Play Screen
Easily view your hand range played during your currently active session, along with locating fish and whales at your tables quickly, and re-playing your recently played hands or tagging them during your session.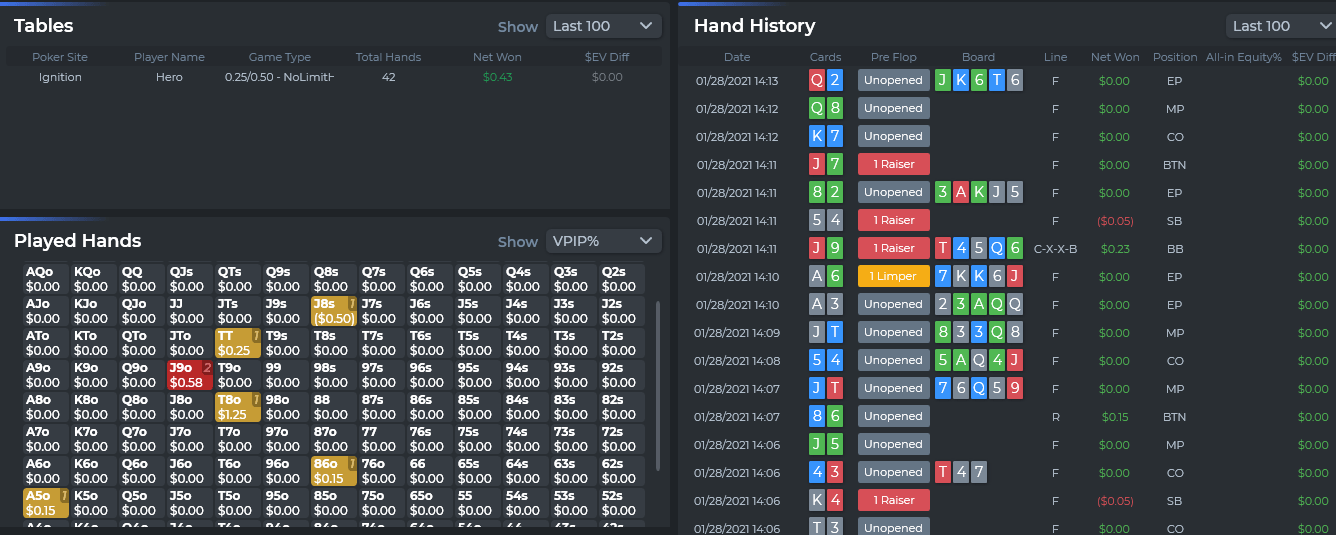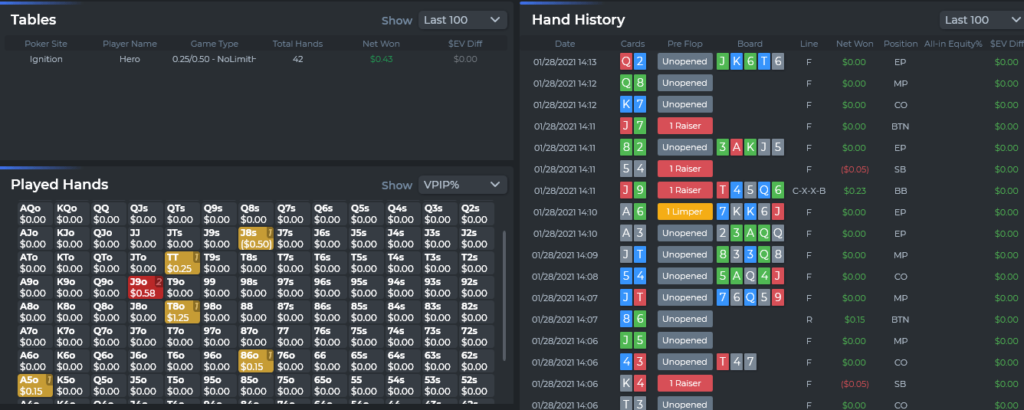 New Tooltips Added
Complete definitions and helpful pointers added for stats, reports, and key sections of DriveHUD 2. 
Important:
Note: If you're a Drivehud 1 user, you'll be asked to migrate your DH1 database and HUDs into DriveHUD 2 on FIRST LAUNCH of DriveHUD 2. This can take some time to do depending on database size, but it will be reasonably quick. If you choose not to do this, you can do this manually at a later time.
What happens to DriveHUD 1?
Our team will continue to support and develop DriveHUD 1 until 06 July 2022. Beyond that, you can still use it, but there will be no more updates.
DriveHUD 2 University Video Tutorial Series
A step-by-step video tutorial series on all the new DriveHUD 2 features can be found here: https://drivehud.com/drivehud-2-univeristy/
Any questions, concerns, or "hey you guys are awesome" comments, or general comments, we'd love to hear from you.