Holdem Poker HUD is the ultimate tracking tool that would keep your opponents on toes with its features. This is the perfect tool that could help you in predicting the moves of your opponents that you could use to win the game. With its assistance, you will surely be the head of the game in no time, even if you have just started playing the game!
What is Holdem Poker HUD?
Holdem poker is one of the most common poker games in the online world. People from all over the world have been playing this game for years. The Holdem Poker HUD helps in collecting all the information and the moves of these players. Then after all of this has been collected, this HUD will give you predictions based on that information. Then, it is up to you to make certain moves which will surely help you in winning the game. These days HUDs have become quite common as most of the players use them. As poker is a gambling game, people need as much assistance with the game as possible. The HUDs are a way through which the players could be assisted in the best way possible.
How does it work?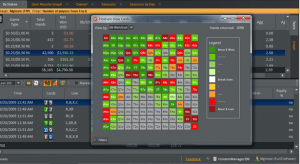 The HUD is the Head-Up Display software. It was designed to assist poker players in playing their games by showing a prediction of the moves that could be made by the other player who plays as an opponent. This software tracks all the moves that have been made by the player in the past. Based on the information that has been received by the software, it gives the user a display of the most moves predicted of the opponent. All in all, it helps the game easier for many users because they can understand if the opponent would make a certain move or not in the game.
Is it Legal?
HUDs are totally legal in most of the websites that have this option enabled. This is because HUDs are not really a cheating tool. This software just gives you some assistance in prediction the moves of your opponents. However, you are the one that has to use their minds in making the move regarding the information that you have been given. Although there are players that say that HUDs make the games boring because they predict moves, many people around the world have now become reliant on the Holdem Poker HUD!
Conclusion
Through it all, it could be seen that this software will surely help you win if you use it correctly. Predicting the moves of the opponent is one thing, however, using that information for your advantage is another thing. However, with the assistance of the HUD, you can surely get the hang of the game; and learn how to beat your opponents. This software is one of the very best that you can find; because it has all the features that you would need to win your game of Holdem Poker!