How will you rate any poker stat tracker as best? Obviously, you will look for the features they offer along with their pricing and customer support options.  There are many stat trackers available in the market, each claiming to offer the best features at affordable prices.  However, unless you get a word from an experienced poker player, it is very hard to choose the right one for you.  Today, we talk a little about what features differentiate a good poker stat tracker from the rest.
Poker Stat Tracker
What are these trackers for? They help you retrieve important information about you and your opponents.  Today's online poker is not just all about luck and intuition; nowadays, Players have to take important decisions in short intervals of time; and it gets tougher if you are playing multiple hands at a time.  Also, knowing about your opponents never hurt; they tell you about how a player your opponent is. So, if you are playing online poker without a poker stat tracker, you are just shooting arrows in the air.
What Stats does a good tracker show?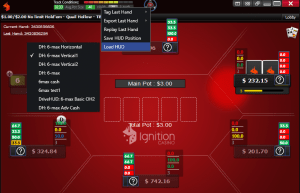 Almost all stat trackers have a few basic features in common, which include information such as time of play, time spent on the games, buy-in amount, cash-out totals, etc.  These statistics give you a lot of useful information on your profits and losses over a certain period of time.
From here on, every stat tracker offers a different set of features which may include the location of your opponents, hand histories of your opponents, variants, and so on. These statistics help you understand which platforms are more suitable for you to play on, which variants give you more profit, how a specific opponents play his hands against others and then against you, and so on.
Where does a stat tracker get all the information from?
These trackers retrieve all the information from different poker platforms where poker is being played. These platforms store all the information of the players and make it available for public use. A poker tracker reaches out to multiple poker platforms to fetch all the information you need and presents in the form of simple facts and figures.
Which Poker Stat Tracker is the Best?
A stat tracker itself is nothing except a tool. So, any poker tracker that makes your gameplay better and easy is the best. It's all personal choices and preferences.  If you are a beginner, you might want to start with an easy-to-use poker tracker that doesn't display a mess of complex figures to further confuse you in a tight game.  Moreover, a paid tracker is better than a free one because it comes with all the features you need, and it also comes with customer support.  That said, you don't need to spend a lot of money on a poker stat tracker; some companies exploit the poker players and make holes in their pockets by overcharging them for simple trackers. An affordable poker tracker should do the job just fine.