As online poker continues to get popular around the world, tons of third-party software applications and tools appear in the market. It is hard to find software that is really worth your time and investment. As every app claims to be the best online poker software, it is a big challenge to find software that is really capable of boosting your win rate.
Best Online Poker Software
This post addresses this challenge for you. We have sorted out a few of best online poker software that stands out among all the others for their better features and better usability.  The software applications and tools that we have listed here are around for years and have been best at work.
 DriveHUD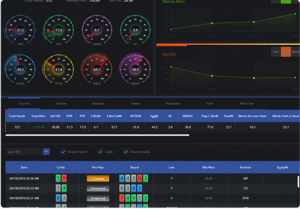 DriveHud will always be on the top of our best online poker software list. The reason is simple; we represent it and we are confident that our software has every feature and every tool to serve as the best poker software in the market.  If you take a look at the features that DriveHUD provides, you will become a fan; and when you will use it, you will instantly fall in love with the experience.  Above all, it comes at a very affordable price; this means great poker experience without putting many holes in your pocket.
Hold'em Manager
Hold'em is another better poker tracking tool that not only gives historic data about your opponents but also runs live and gives you live stats while you are playing. The customizable, feature-rich HUD  has graphical and visual stats about other players.  Moreover, the software is compatible with all the operating systems and most of the devices. Although there is a free trial available, the premium version comes with a big price tag.
PokerTracker
ProkerTracker is another very popular online poker tracking software and HUD that many professional players use. The features and usability make PokerTracker one of the best online poker software.   The features that PokerTracker provides are quite similar to what DriveHUD and Hold'em managers have.  With PokerTracker, you can track, monitor, and analyze your poker performance.  Also, you can track your opponents' performance to understand their strategy.  The software is pretty easy to use and runs fine on Windows and Mac. You can download a free trial for 30 days after which you have pay for the premium version.
Conclusion:
Serious online poker players who invest their time and money on online poker must use poker software that provides the features and tools to gauge the performance of their opponents and also provides useful stats about their own performance. This helps them improve their overall performance and increase their win rate.  DriveHUD, PokerTracker, and Hold'em Manager are our picks for this list.  These software packages are easy to use for players of all levels. Moreover, they are full of features and tools that allow them to get all the information they need about themselves and their opponents. Try these software programs and let us know about your experience.