Zone Poker HUD is in high demand in the market nowadays due to the growing popularity of Zone Poker on Bovada. The fast-paced poker named as Zone Poker is almost same as another popular Poker game called Zoom Poker of PokerStars where you have to move to a new table every time you decide to fold. In this article, we will know more about Zone Poker and how it is different from Zoom Poker. Also, we will see why we can't have a Zone Poker HUD just like we have one for the Zoom Poker of PokerStars.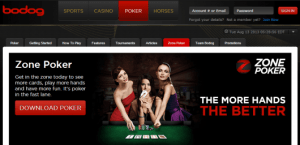 How is Zone Poker Played?
It is an ideal poker game for those who want to earn some quick money by playing multiple hands in a very short time. But this doesn't mean that the game is not for the regular gamers who can 'wait and watch' and make the best move according to the given conditions.  The game rules are simple and straightforward.  A player can view hole cards and has the option to fold. As soon as the player decides to fold, he is moved to another table and he has to deal another hand. If you have played Zoom Poker, the rules might sound pretty familiar to you because these are the exact same rules that are followed by the PokerStars Zoom Poker too.
Are Zone Poker and Zoom Poker Same?
Yes and no. Yes because the methodology of playing poker is all same in both. And no, because the Zone Poker has completely anonymous table elements as opposed to zoon poker where you know everything. This means that you can't use a Zone Poker HUD, just as you use one for Zone Poker. One better feature of the Zone Poker is that you can have complete assistance from a HUD because PokerStars don't have any anonymity feature and you can use HUD to analyze your game, know your opponents, and track their game records.
Can We Ever Have a Zone Poker HUD?
So far, there is no such good news; because HUDs are completely incompatible with the Bovada/Ignition platform because of the way they operate. But there are surely some new programs/features that might help the players in some way or the other. One such feature is Zone Poker capture support by DriveHUD.
Zone Poker Capture Support
Zone Poker capture support is an added feature to the DriveHUD. It allows the players of Zone Pokers to get real-time stats on the game for analysis and tracking. Although not effective as a full-fledged HUD, this support feature provides enough support for the players to let them have control over the game by providing an instant analysis of their game performance.
If you have DriveHUD, you don't need t do anything to get this support feature because this feature comes built-in. So do not worry much if you don't have a Zone Poker HUD; DriveHUD will help you have a good game with its Zone Poker Capture Support!