What is the best poker tracker app?
Online poker is getting more competitive each day and if you are serious about your game, poker trackers a great tool to keep yourself competitive enough.  If you are using one, you know what difference it makes in your game strategy and in your win rates. And if you are still not using it, better start using one now. If you are planning to use one, you must be wondering what is the best poker tracker app for you.
There are countless poker trackers available in the market today; each claiming to be the best. Here, we will talk about the features that you should notice keep in mind while choosing a poker tracker for your self.
What is a poker tracker?
A poker tracker is a software/app that keeps track of your online poker game data. It includes your win-loss ratio, your hand history, and pretty much everything you do while playing online poker. Not only yours, but poker tracker also provides useful information about your opponents while you are playing. Poker tracker apps Poker tracker is a great tool to know your game tendencies and analyze your game performance to see where you need to improve.  If you are a regular player and you don't use a poker tracker, you should know that everyone else out there is using a poker HUD and the money you put on the table is at great risk. So, now is a good time to know what is the best poker tracker app.
Features of the best poker tracker app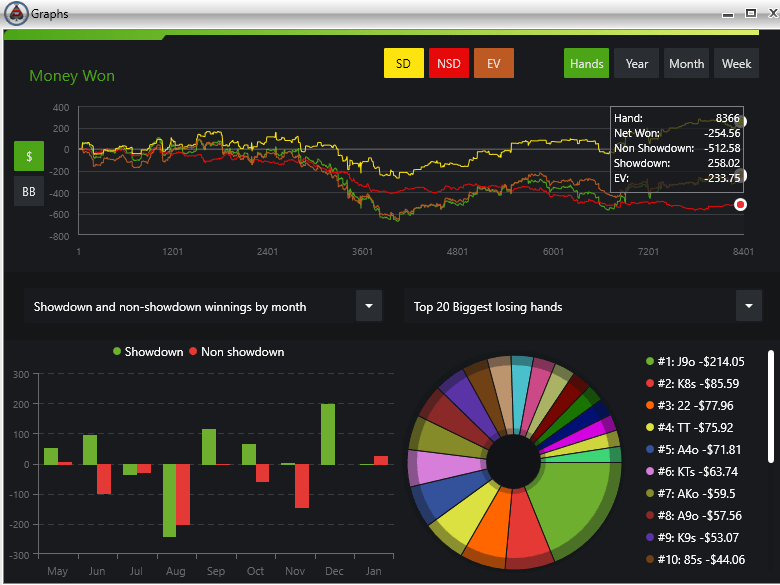 Among hundreds of online poker tracker apps, if you have to decide the best one for yourself, always look for the following features.
Free Trials
Before investing your money on a poker tracker app, it's a good practice to avail the free trials that some good poker tracker apps offer. They let you use the premium versions of the apps for up to a month. Some ask for your payment details beforehand while others don't even bother you about this. Better go for the ones that don't ask you for your payment details. Try different apps for a few days and test their features to know what is the best poker tracker app for you.
Easy to Use
A good poker tracker app is always easy to use. It starts in a few clicks and overlays your game table without even letting you notice. It gives you live stats while you are playing so that you can make quick game decisions. A good poker tracker app will let you handle many hands at a time; that too on multiple tables.  Managing different tables at a time is not possible without using a tracker app and that's another reason to start using a poker tracker app for you.
Trying a few poker apps will make it clear for you as you experience different game situations, different opponents, and get different stats from the poker apps that you use. You will certainly know after some time about what is the best poker tracker app that aligns with your game style and boosts your game performance.