The history of HUDs is as old as the history of online Poker itself. Online Poker took no time to get popular among the poker players.  Today, there are millions of active players on many different national and international poker platforms. If you are new to the world of online poker and wondering what does HUD stand for, this post is for you.  We will tell you what a HUD means in online poker and how it is helpful for you if you are a poker player.
What Does HUD Stand For?
Let's start with the definition of HUD; A HUD ("Heads Up Display") is a software program that overlays your screen during an online poker game and displays certain information and statistics without interrupting your gameplay.  When you look at the literal meaning of a HUD, it is a technology used in aviation where some data is displayed over a transparent screen. The pilots and other control crew of the aviation department use this technology very often.
In online poker, a HUD gives you important statistics about the game and helps you get an upper hand in the game by giving you important information about your opponents. It collects important information about your opponents such as their hand history and game records. These statistics, when displayed live while you are playing, help you make better decisions.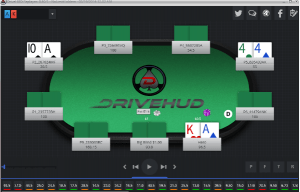 How a Poker HUD helps you?
As random as it might seem, any decision in poker is not just a shot in the air. While you decide whether to bet, check, or fold, you always think about what exactly your opponent has under his belt. You might want to know his previous moves, and his winning track records based on these moves. A Poker HUD does exactly that for you; before you make a move, you refer to the information posted on the HUD and know about your opponent and the nature of his game.
How to Choose a Poker HUD?
Now that you know what does HUD stand for, it is useful to know about how to choose a good HUD for yourself. While HUDs are high in demand, there are countless HUDs available in the market that claim to be best at what they do. But like every other thing, not everything is the 'best.'  Hence, it is important that you choose a HUD based on proper research.
The best way to choose a HUD for you is to extensively research about HUDs on the online forums. There are many reliable Poker Platforms over the internet that provides credible information without any bias.
DriveHUD offers a high-quality and reliable HUD for poker players of all levels and types. Whether you are seasoned poker players with many winnings under your belt, or a newbie looking forward to making a successful career in the online Poker, DriveHUD is exclusively designed to help you achieve your goals. DriveHUD offers many different features and tools that help you get better results.  Moreover, the price of our HUD is very affordable and you don't have to put holes in your pocket to buy a good HUD.