Poker players around the world are always looking for new ways to help improve their game. One of the ways to perfect the game is by using a poker tracking app. The problem is that there are thousands of apps that claim to give you the best features but the truth is that many of such apps are engineered to get access to your data for their own benefit instead of helping you out with your game.
There is no way one can deny mobile domination. From instant messaging to entertainment, mobile has changed the face of an entire way of communication. The deep penetration of mobile devices in every region of the world has given birth to new possibilities.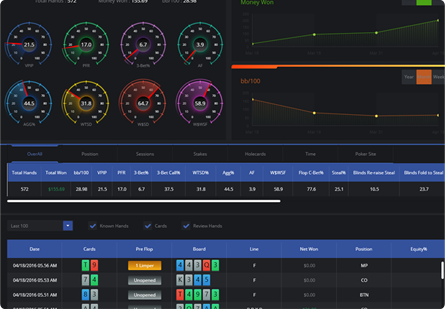 Let me introduce you to a legitimate poker tracking app that will go beyond your expectations when it comes to tracking poker games and helping you perfect your game.
Leak Buster poker tracking app
Keeping track of leaks is an integral part of playing poker online. Leak Buster is a mobile app that lets you track in minutes the leaks that cost you the most. As the name suggests, this app busts the leaks and all that is available right on your smartphone. You don't need to access your personal computer to get such a vital information. Instead, the makers of this useful application have made it easier to make use of it to accelerate your gains.
How does the app work?
Leak Buster is a smart application that locates the most costly leaks in your online poker game within minutes. The application uses a huge database and nearly five hundred filters and analyzes it compared to the players who are winning against you the most. It carries out a statistic range analysis and deep level comparative analysis to get what you want.
The application promises to analyze nearly six hundred areas of the game and let you locate the exact place that you are overlooking during your game. With such vital information, you can take a great advantage and leverage your position in the game. This will not only increase your productivity but also accelerate your gains.
A good thing about this poker tracking app is that it works for both beginners and experts. Either you are just starting to learn the game or you are a seasoned professional, make Leak Buster your friend for tracking poker and you will save tons of time that you might otherwise waste to go after leaks. In some cases, you might have even completely overlooked an important part of the game that led to lesser productivity and slow gains.
The app lets you make complex decisions based on a huge library of players that starts working as soon as you are connected to the table. The copilot feature will help you understand stylistics of the game that your opponents are playing. Keeping in view their stylistics, you can analyze your own game and make decisions that will lead to higher gains.
You don't need to worry about learning to use this application. There is a huge library of video content as well as written content that will help you use the application like a pro.