PokerKing HUD – Does PokerKing Allow HUDs?
PokerKing is one of the top platforms for peer to peer online Poker. The company was established by Poker Players who have spent all their lives playing poker at many different levels and platforms. As the platform allows PokerKing HUD, new players find it very easy and entertaining to play there.
Although the platform is open for players of all levels, and interests, the platform owner specifically mentions in his welcome message that Poker King strives to provide a user-friendly platform for those who play poker as a hobby and as a recreational activity.
PokerKing HUD
PokerKing has outlined a very detailed policy regarding how and which third-party software can or cannot be used on the platform. While it allows different types of analytics and data processing software such as PokerKing HUD, it strictly bans auto players and manipulative software such as bots and double accounts face strict prohibition.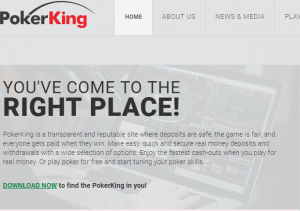 More details on the fair usage of third-party poker software are given below.
Double Accounts:
A person can only have one account on the platform.  Hence, any second account under a different name, ID, or any other identity is strictly prohibited.
Combined Strategies:
Multiple players sitting together and devising a game strategy for the purpose of winning is not allowed.
Ranking Manipulation:
Manipulating results to gain ranking, and also losing at lower staked games to impact overall ranking is not allowed.
Bots:
Bots are special programs and software that enable a poker player to automate the game process. By using bots, a player doesn't have to use his own brain and intuition to make decisions. Such software is clearly against the fair play policy of PokerKing and is banned on the PokerKing platform. The PokerKing administrators take special measure to detect and block any account from where a bot activity is detected. So far, many programs and websites are facing a ban from the platform for using illegal methods to change the game results.
PokerKing HUD:
The platform allows tools and software that provide data, analytics, and graphics that provides information and odds. Also, software that gives you information about your opponents on the basis of current gameplay and previous information is also in the list of accepted third-party tools. This means that you can use PokerKing HUD  on the PokerKing platform.
PokerKing HUD by DriveHUD
DriveHUD provides a simple to use PokerKing HUD for online poker players.  If you are using DriveHUD as your Poker platform, it will be easier for you; since it embeds everything including hand history to the HUD by default. This allows you to instantly review your hands on the platform. Other features include support for the short decks and straddles.
Conclusion:
PokerKing platform allows the use of HUDs and other supportive software that makes it easier for the rookies or non-professional players to enjoy the game. The Poker King Platform aspires to provide equal opportunities to play and enjoy a game of poker to players of every type and interest. So, if you are a poker player for the sake of recreation and enjoyment, PokerKing is a nice platform to start. It even allows using HUDs so if you have a PokerKing HUD with you, you can use it with ease.