Is Pokerbros Legit?
Are you looking for a state-of-the-art poker application that is both club-based and run by trusted agents? Then, Pokerbros is the social gaming platform for you! You can get access to thousands of online poker clubs from all over the world.
This ease of access brings recreational players together in a competitive environment. But the real question is, is this play-money poker app legit or not? Keep on scrolling to discover the integrity, pros, and cons of this most popular opportunity-filled app on the market.
The Integrity of Payments on PokerBros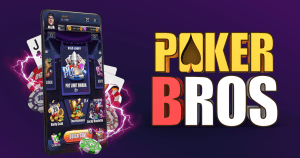 Pokerbros conducts its game using play chips, which are then converted into money. However, all the transactions take place through under-the-table cash exchanges. All these transfers are operated by trusted agents and the money goes directly into the hands of the owner when deposits are made.
Keep in mind that club owners can recruit players on their own, or use agents to bring in players. So, the agents get a cut of the rake produced by each player they recruit into a club. Thus, the integrity of payments relies solely on the owner of the club.
Pros of Pokerbros
Strong competition opportunity: The games in this app offer the tightest competitive opportunities as all the clubs operate individually all over the world for both Android and Apple iOS device users.
Start your own club: Virtually anyone can start their own poker club or join any preexisting club on the social app. Thus, you have a greater chance to bring in your own skilled players and form a fierce team.
Own security service: The gaming app has its own gaming security service through a mix of automated systems. Moreover, manual review systems and algorithm methods are in place to ensure a fair competitive field.
Cons of Pokerbros
Good agents are key: If you have a trustworthy agent, then your money is in safe hands. But joining a random club, with no know-how of the agent or club owner can result in a disaster and you may lose some of your precious winnings.
Payouts can be delayed: It may sometimes take a long time for payouts completion as winning players occasionally face restrictions from the clubs.
No welcome bonus: Most regular sites offer welcome bonuses to their users. However, that is not the case with a decentralized poker app. Instead, the agents offer a fixed rakeback percentage to the players of the club.  
Is Pokerbros a Scam?
Overall, this social gaming app offers everything from juicy games as compared to standard online sites, availability all over the world internationally, and attractive software. However, the drawback of scammers on the site that steal the player's money sets a note of caution around the app. This calls into question the fairness of the game.
Thus, coming to a significant conclusion, a popular opinion is that only experienced and knowledgeable poker veterans should consider taking a calculated risk and play at PokerBros. While it may not exactly be a scam, the wariness of disreputable frauds raises doubt on the overall game.