Poker Tracking App: A Short Guide
Many experienced poker players suggest focusing on the decision-making rather than the results. This is very true especially if you are a newbie and are looking for short-term results. Keeping track of your poker results is the key to a long-term strategy. It helps you to analyze yourself and your spending and winnings. Tracking results also helps improve overall performance. The big question is, how to track your progress? Well, the answer is simple! A poker tracking app, a software that keeps a record of your online poker playing, shows bankroll changes and displays detailed information about your competitor's game.
How does it work?
The tracking app saves each completed hand in a text file on your device. This file contains a record of every action (hand). This file is used for the poker room auditing. The poker tracking software also uses this file for different purposes.
The software reads that stored file and retrieves as much information as possible, and then saves it in a database. The tracker then prepares summary reports using the database, which also helps generate ad-hoc reports. The poker tracking software creates different shortcuts to multiple statistics.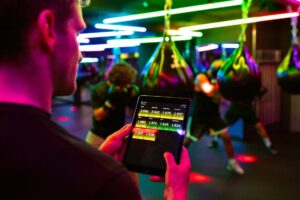 Poker tracking software features
The poker tracking app provides a comprehensive data set, and most professional players consider it seriously. The main features of the tracking tool are:
Hand Analysis: This feature allows you to find mistakes in the hands that have been played and learn from them. You can also check your bets if they were too low or too high. There are hundreds of tracking software, but the following features are common in most poker tracking software.
Competitor Analysis: It provides you with the data on how your opponent is playing, what strategy he is trying, and how to counter or avoid any situation.
Bankroll Tracking: Keep an eye on your earnings and track your earning progress as your game improves.
Leak Detectors: This feature helps you detect and fix your common game mistakes.
Heads-up Display (HUD): This feature displays information collected from the tracking software live on the tables while you play.
Benefits
There are various benefits of poker tracking software. Firstly, it allows you to record and plan your spending and earnings. You can play with different strategies and figure out which works the best. It allows you to notice trends in results based on the game type and other factors. You can learn from your weakness and improve your game accordingly. The poker tracking app helps draft a winning strategy by highlighting the opponent's weaknesses.
Drawbacks
The cost might be a drawback if you are a newbie and lack proper knowledge of the game. There are many free poker tracking software, but they come with a risk of fraud, inaccuracy, and fake statistics. We would suggest using a reputable brand that will help improve your performance and winnings.
Compatibility is another issue because different sites do not allow poker tracking software. Always check the software you want to use is compatible with poker sites.