Everyone is quite familiar with the term HUD-heads up display- here, but the question is have you started using it yet? If not then BINGO, you are at a big-time loss and you are really living in a Stone Age era! If you are thinking that you have been playing party poker successfully without PartyPoker HUD in these past many years and you can continue to do so, then let me break the news to you, you are completely wrong!
Playing just for fun then you needn't worry, but if someone is playing for wins which is death or a life situation, then analyzing should be a huge part of your game! While playing no one has enough time to figure out the strategies other players are applying or no one can ever know the players winning or losing record! And then by any chance, if you are a newbie playing in a group of experts, then consider yourself no lucky then a mouse trapped in a cat's paw!Well, stop panicking; thanks to the modern world we have HUD's to save our lives! This on party poker keeps all the records of the player. Partypoker HUD if used correctly, it can bring you victories!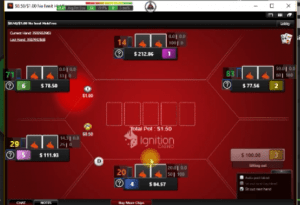 Poker Copilot
By installing this HUD is not even a click away from you, it's already there! Just start playing and it will pop-up on the top of your screen, itself. Poker copilot's HUD displays player information directly on the party poker table. You can promptly see the number of times you have come head to head with your opponent and the record of how they have played against you. The player's style is broken into a number of statistics, out of which you can pick your favorite one. This will remain in front of your eyes throughout the game.
Partypoker HUD is a life hack! I mean what is left in your opponent's game when you know all about his or her strategy, isn't poker all about this!? When all the tables are turned on you, making a risky move is easier when you know the previous track record of your opponent, broken down into simple information.
Bankroll chart
Well, not only your opponent's record but keeping a track of your own loss and win is important too! The bankroll chart comes handy here. It lets you track your winnings time and time again. There are filters present, from where you can choose the best format for your bankroll.
PartyPoker HUD Leaks
In a card game, because of some mistakes in your game strategy, you may constantly be giving away your chips to the opponent players. If anything such as this happens, HUD identifies it and stops you from doing so!
For the beginners learning the basics is the first step for them to be in the business, but with the number of new technologies out in the market today, such as HUD in party poker it is much easier to improve and learn what experts are already doing. And because of this, even the 'not so good' players are much more competent, which makes the game harder at every level.