Many online poker players think that they are using the best poker tracker on their computers. While they may believe that to be true, there are some apparent aspects of the software that will tell them otherwise.
Poker trackers have become very popular in the last few years, as more and more players are realizing the advantages that they can offer in the world of online poker. They go online in search of the best poker tracker and often settle on the first one they look at. The websites they visit have extravagant displays that distract them from the actual functionality that the software offers. Players get this software and learn later that it doesn't offer the same stats and features that they need.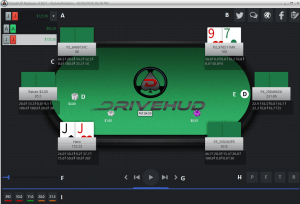 The Best Poker Tracker Doesn't Have
Huge Price
Poker trackers can set you back quite a bit, but they aren't hugely expensive. So if you have paid an extravagant price for you HUD and it still only offers the basic statistics then you have been robbed. All online poker players know that poker software can cost a few hundred dollars. The best ones will cost the same amount but they will include all the functions that all types of players can make of use. A HUD is a great investment, but only when made smartly. So when you are in the market for poker software, look at the features and prices both.
Importing Stats
An oft-overlooked but important feature in a poker software is the import of hand history. The imported stats are used to analyze the player behavior and essentially are the most important role the software plays. If you are working with a HUD that doesn't allow that, then you are at a severe disadvantage and you need a better one. This feature is especially crucial for new players because they need the data to learn about their opponents' playing styles.
Lack of Development
As an online poker player, your most important goal is to be successful. Success only comes after you have developed your game enough to challenge even the best of players. A HUD can help you learn the patterns and playing habits of players. If you learn to read them the right way and use them to find weaknesses in other's game, you will learn the tendencies of players and grow your skills.
Legal Issues
This is where you have to be very careful. Read the terms of the software you are using and make sure that none of its functions are illegal. You don't want to get kicked out of your favorite poker site because you are using an illegal software. The worst part is that players don't know that the software they are using is illegal, and they end up losing all their winnings when it is discovered and their account revoked.
It is very important to read all the terms of the poker site you are playing on to see if they have any rules against using certain types of software. And when you do get a software, get the one that is compatible with the poker playing site you frequent.
These are the shortcomings that you can look into when you choose a poker tracker. They will give you the telltale signs that you are using the wrong HUD and it is clearly not the best one available online.