Ignition Poker HUD is designed specifically for playing Ignition Poker as it has all the features through which you can play your game. It is an easy-to-use software that could track the statistics of your opponent in Ignition Poker. With this software, you can enhance the rate of your winning as you would have an advantage of "better knowledge" over your opponents.
Types of HUD for your game
If you are new to the poker scene, you might see that there are different types of Poker HUDs available for you. There are several different ones, where you can choose the one that is according to your needs. The most common types of HUDs are the ones that are free of cost. However, these HUDs are not as effective as they only have very limited features that do not totally help you with your game. However, there are some that offer you with cheap options for the cheap tracking software for your poker game. These have almost all of the features, however, they are not too specific with the needs of the games. So for that, you'll obviously have to use the Ignition Poker HUD.
What is Ignition Poker HUD?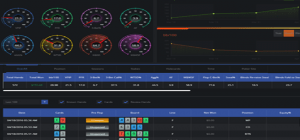 This is a software that you could use to get the upper hand over your opponents. In today's world, most poker players use the Ignition Poker HUD that predicts the moves of their opponents. There are many players who complain about the HUD, however, the truth is that almost everyone uses these HUDs to play poker. Poker is a game of intellect and many gambles away too much because they do not know how to properly play the game. However, with the HUDs, the players could learn about their opponents. Poker HUDs ensure that you can win the game at a fairer level. This is because almost everyone uses the software for the game, especially for ignition which is one of the harder poker game. So, these HUDs assist you in the best ways possible due to their job-specific design.
How is it used?
The HUD is designed specifically for Ignition. This means that it connects you to the players who are playing that specific game and only then could the software be used. Yet, after you connect it, it will offer you a number of statistics that you could use to win your games. You can access these different features through the software and you can learn almost all about the way that your opponent plays the game.
Conclusion
Now you can finally understand the inner workings of the game. You can also get a reading on your opponent and then beat them at their game. Also, as a beginner, you do not have to worry about losing anymore because, with the assistance of the HUD, you will surely understand your opponent in a better way. However, you must choose the HUD according to your needs so that you are comfortable in using the software for your game.