How can DriveHUD make me more profitable?
 It is a smart approach to do your research before you get started with a poker game online. The tracking software such as DriveHUD would be beneficial to get your hands on poker games online and make a profit. You must be thinking about "how can DriveHUD make me more profitable?". The more you do your study about the poker tactics, the more you increase your chances to get profit out of it. DriveHUD lets you examine your session report by providing you with a complete breakdown of moves played. This software helps you improve at your game and makes you a pro poker player with time. DriveHUD is a profit tracker for amateur and professional online poker players and is easy to use. It let you replay your previous games and track the cards you throw while the color-coding helps you with whether you are making the right move or not. Every step is shown with details and colorful visuals for you to examine and not make the mistakes again. The interface is user-friendly as it manages your game records along with the income and profit made.
How can DriveHUD make me more profitable?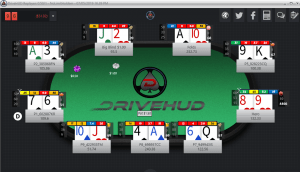 Of course, every poker player invests in the game with an expectation to get profit in return. When a player starts from scratch, the one question that crosses his mind is "How can DriveHUD make me more profitable?" But the main concern is whether you want to invest some time in doing your research or you just want to rush into it?
Start using DriveHUD to get access to your losing moves where you can analyze properly the spots you can work on. With practice, you are more able to keep an eye on the opposite players thus minimizing the chances for you to lose the game. You not only get to analyze the moves but also keep a record of cash earned from all the games you have played. DriveHUD also shows different tactics, your profits earned per hour, monthly cash earned, and also stats for winning and losing the game sessions.
Why Choose DriveHUD?
You may find other poker profit trackers online but if you want to grow in the casino business, you need to take a wise step. If you are still not sure about the question "How can DriveHUD make me more profitable?" then here are some more benefits to this approach. There is a proper time tracker while you are playing a poker game session on DriveHUD to keep you focused and aware of the time. The record helps you analyze and evaluate each dollar that you invest and the profit you make out of it. It shows the ratio of dollars spent and your monthly income, the dollars you lose and the cash you win. By using DriveHUD you become capable of making the right choices in the game and with time you become a good player.