An overview to Online Poker Software by DriveHUD
DriveHUD has a state of the art online poker software that helps you perfect your game by analyzing the game of your opponents and understanding the statistics. The software is available for both Windows operating system as well as Android and iOS phones.
The Windows-based software is packed with features for tracking not only tournament data but also player data as well. We promise you that the software will not turn out to be a waste of time and filled with adware. We have built this software keeping in view the needs to both starters as well as professional players.
We understand the fact that many online poker software available on the internet do not work as promised and instead of helping you out with tournaments, they steal your personal data. This is why we have built this software with absolute transparency and followed policies that are considered player friendly in the United States as well as many other nations globally.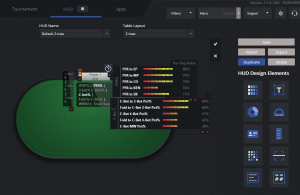 The software is user-friendly and will not bore you with bulky screens. We have designed it in a way that the user will have a comfortable experience no matter how long it is being used continuously.
Why use our online poker software?
Here are some reasons why you should consider using our software:
Easy to use
The interface of our online poker software is simple, fluid and user-friendly. We have followed the latest industry standards and kept in mind most popular design practices to build our software. The design has been taken with a user first approach which is why you are going to love using it for hours and hours during your online poker game. Our graphics
Updated regularly
We are here for the long run which means our software will never be outdated. With every new OS release by Microsoft, we will release a new compatible version. Not only this, we release new features from time to time to improve usability and make it overall useful for online poker players.
Built by experts
We know the poker industry and over the years, we have developed a deep passion for this industry. Our aim is to help other poker players get the best out of our software. Our expert team of software developers and designers have put tons of working hours into building the software as it is today. On top of that, it is continuously evolving with time.
Free to try
One of the best things about our software is that you can try it for free without the need to attach any credit card. You can use our trial version for 30 days and go with the purchase only if you are satisfied with the software. We give money back guarantee on all software purchases so you don't need to worry at all.
Start using our software for your online poker needs and make the best out of your time and money investment on this game. We are sure you will have a good time and improve your game with the poker software.