DriveHUD 2 Knowledge Base
Ignition / Bovada / Bodog site setup
1. Click on the SETTINGS button icon at the top right-hand side of DriveHUD 2.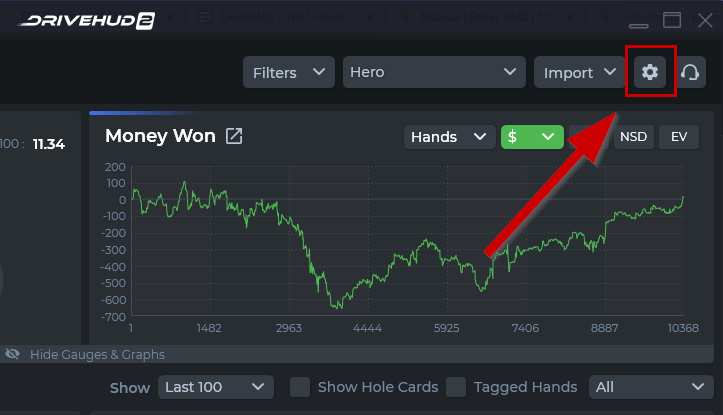 2.  Click on SITE SETTINGS.
3. Select Ignition/Bodog from the site drop-down list.
4. Make sure that the Activate/Deactivate button is GREEN. If it's not. click it until it shows as GREEN.
5. Click on APPLY.
IMPORTANT NOTE: Ignition is a site that requires you to wait for your table to fully load (meaning it's shown as 100% loaded) before you load your next table. If you're playing Zone, only load one table at the same time. Do not select the option to load 2 at once, or your tracking will not work correctly.
To run a HUD on Ignition Casino / Bodog poker with DriveHUD 2 you only need to do the following:
1. Load up DriveHUD 2 (we recommend doing this first).
2. Load up Ignition Casino or Bodog poker(Ignition skin).
3. Just make sure the HUD start/stop button in the HUD tab at the top of DriveHUD 2 shows a stop sign (meaning it's running and to click it would stop it).
As long as that's in place, a HUD will show up on Ignition.
If you don't have a HUD running on there for any reason. Simply click on the headset/support looking icon at the top right-hand corner of DriveHUD 2. Put your name and e-mail and a message that you're having difficulty and make sure to have the attach log button checked. Our support staff will respond promptly and get you up and running.
If you have any further questions or need any setup assistance, please contact support from this page: https://drivehud.com/support/