DriveHUD 2 Knowledge Base
DriveHUD 2 Hand Replayer Manual
Table of Contents
Important Note about DriveHUD 2 Logo and Options Button
Please note that for all steps that involve right-clicking on the DriveHUD 2 Logo, the same can be done by clicking on the options button in the top middle section of the replayer.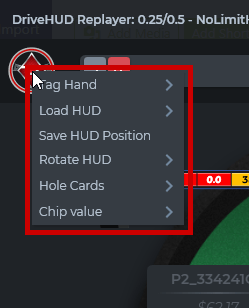 What are the Hole Card Options and where can I find them
1. Right-click on the DriveHUD 2 icon (upper left) to show the context menu.
2. Select "Hole Cards". From here you have three options: you can Hide Opponent Hole Cards, Hide Hero Hole Cards, or Hide All Hole Cards.
How to export your hands to poker forums
1. Click the Export Icon and select a common forum format.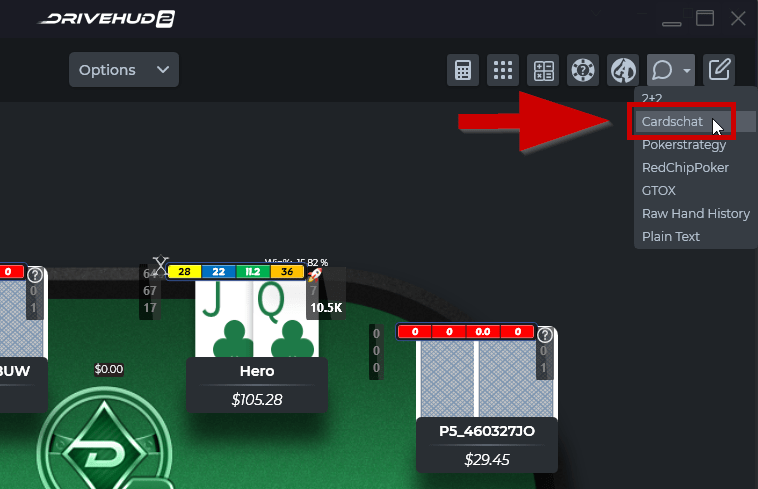 2. You'll get a message saying your data has been exported and copied to your clipboard.

3. Go to the applicable forum/platform and paste your data (CTRL+V).
How to add / remove a Note for a hand
1. Click the "Make Note" icon.
2. Write your note on the pop-up note window and click Save.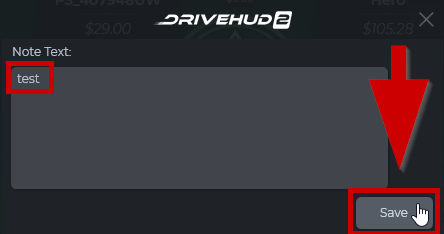 3. To check if the note has been saved, close the hand replayer then you should see a small note icon beside that specific hand in the Hand Reports Section.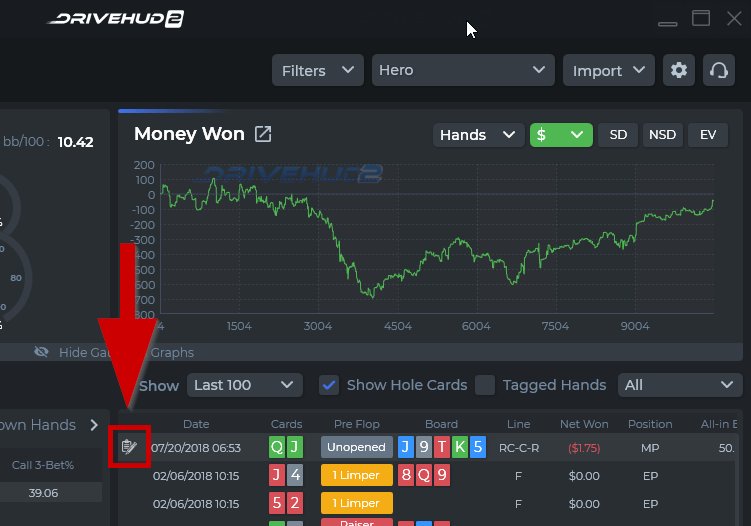 4. To delete that note, click on the same note icon.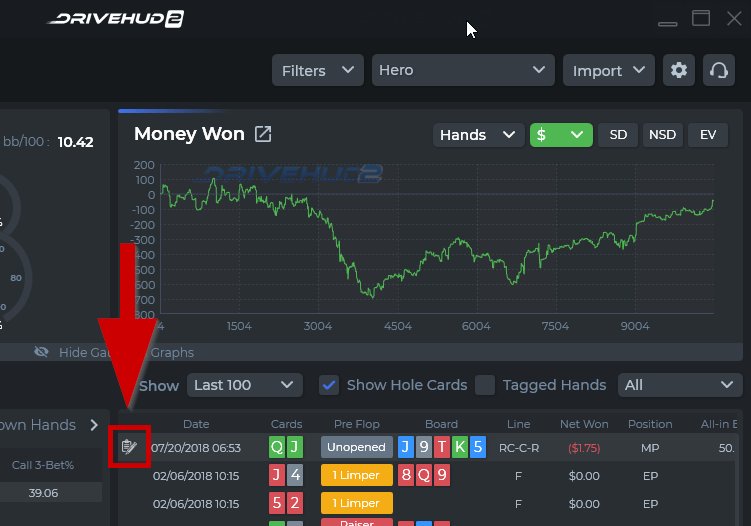 5. Remove the note text, click Save again and the icon will disappear.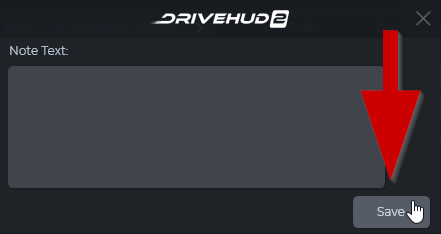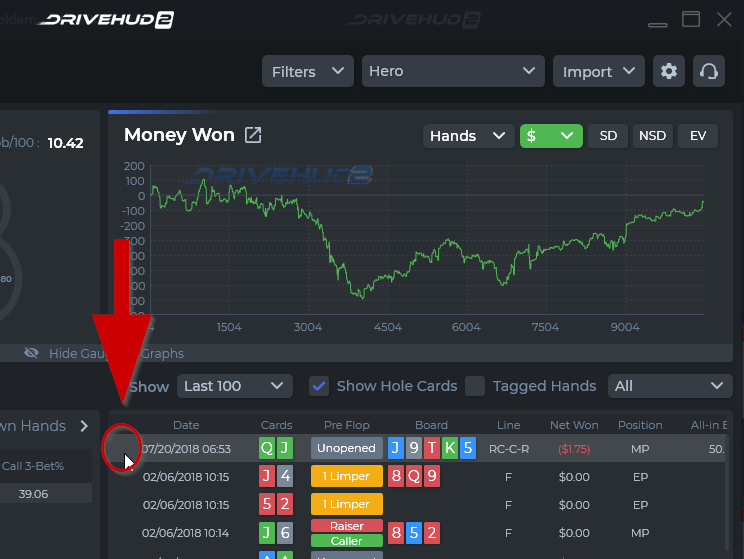 Position Slider – This is the current position that the hand is in during your review/replay. You can move the slider to the left or to the right to quickly move to another position in the hand.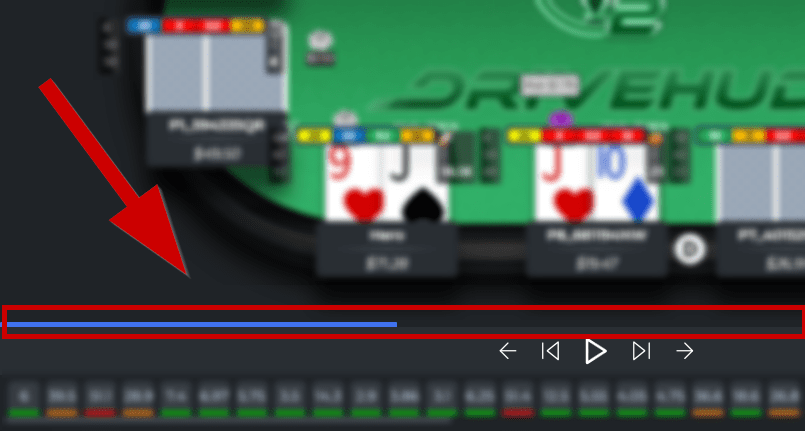 Minimum Big Blinds (BB) Filter – You can change this amount so that the bottom hands in the replayer, load for that session/ tournament based on how many are set.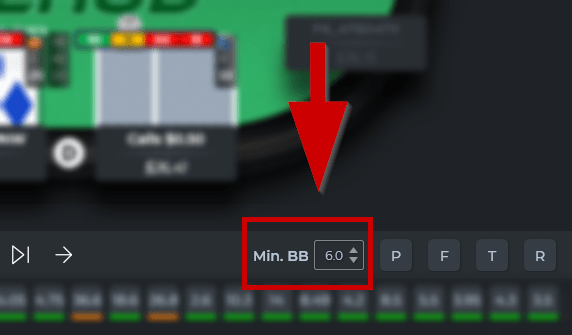 It will show only these hands where hero's absolute value of netwon >= value set in the filter.
Both positive and negative amounts will be selected.
If it's set to 6, and there are hands where you won >=6 or you lost >=6 then these hands will be shown at the bottom.
Street Buttons – Each of these buttons will skip to a specific street in the hand.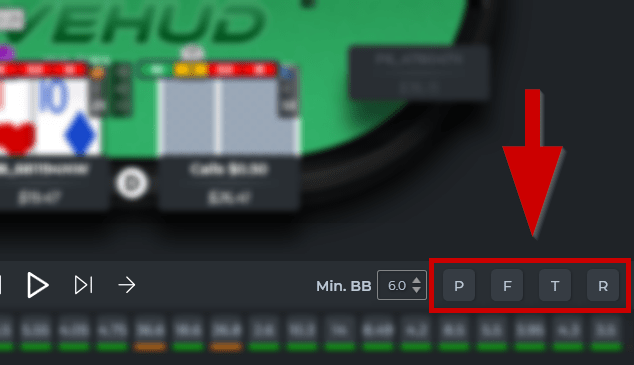 P will forward to action pre-flop
F will go to the flop
T will go to the turn
R will go to the river
Quick Load Buttons / Big Pots Session Buttons – Each hand you load will also load all of the biggest hands you played for the session related to that hand. It will list these at the bottom of the replayer.

All hands will be listed in big blinds
The biggest hands will be listed in RED, the medium size pots will be listed in orange, and small pots will be listed in green
Any pot that is 7 BB's or larger that you were involved in will be listed here
You can click on any of them to load them in the replayer and review them.
If you have any further questions or need any setup assistance, please contact support from this page: https://drivehud.com/support/