There's going to be a lot of new stuff in this upcoming build. A lot of changes we should highlight so you can understand. A couple of basic new things, like equity calcs in the hand re-player now (yeah):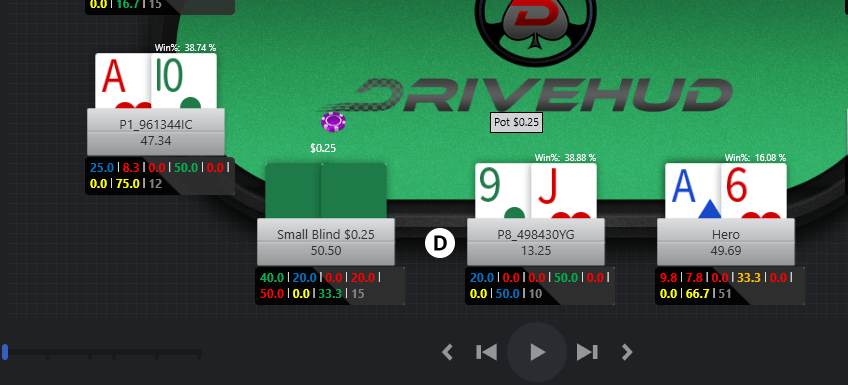 Lots of new stats being added:
Limp%, Limp EP%, Limp MP%, Limp CO%, Limp BTN%, Limp SB%, Limp/Call%, Cold Call EP%, Cold Call MP%, Cold Call CO%, Call Call BTN%, Cold Call SB%, Cold Call BB%, Cold Call 3-Bet%, Cold Call 4-Bet%, Cold Call vs BTN open%, Cold Call vs SB open%, Cold Call vs CO open%
Of course the new HUD Designer as well: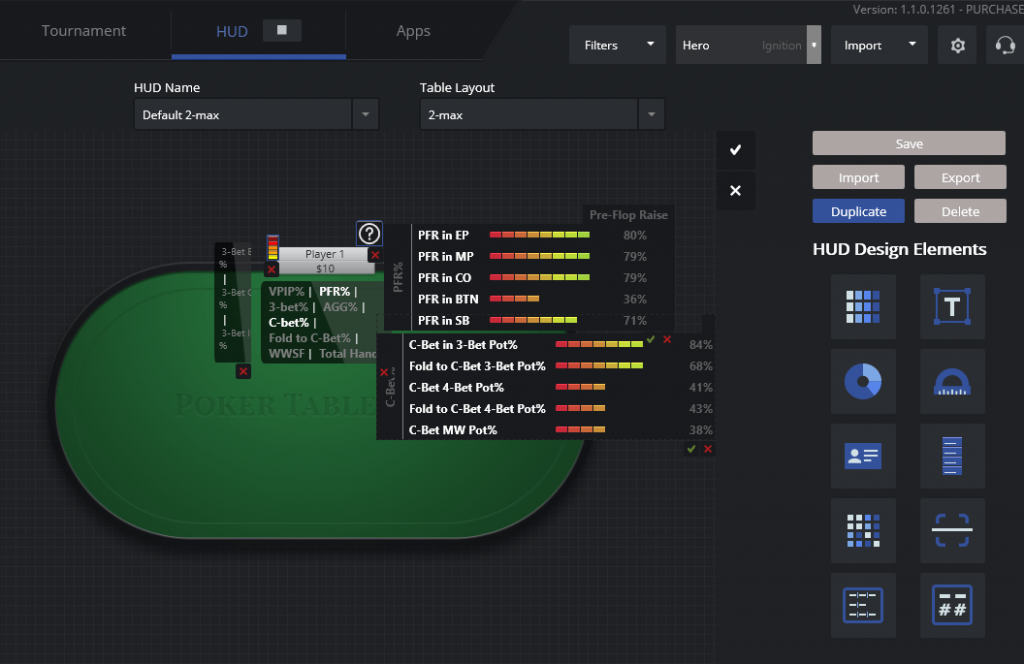 Huge Speed Improvements for Reports
About a 8-10x speed improvement for all stat reports. A complete re-optimization that you'll notice when switching between reports.
Full Release notes:
Added ACR SnG 2.0 support
New HUD Designer
Added new stats:
Limp%
Limp EP%
Limp MP%
Limp CO%
Limp BTN%
Limp SB%
Limp/Call%
Cold Call EP%
Cold Call MP%
Cold Call CO%
Call Call BTN%
Cold Call SB%
Cold Call BB%
Cold Call 3-Bet%
Cold Call 4-Bet%
Cold Call vs BTN open%
Cold Call vs SB open%
Cold Call vs CO open%
Fixed stats issue w/ IP/OOP (e.g. Cold Call IP, Cold Call OOP)
Added preferred seating button on HUD screen
Fixed date sorting for session and tournaments reports
Added migration which rebuilds player stats to see the proper value of these new stats (it's possible to skip it)
Added Rebuild button to general settings which rebuilds player stats
Added Recover button to general settings which recovers backup version of stats if rebuild function produced some issues
Fixed PS importing issue when mucked cards weren't imported
Added Equity Win % to hand replayer
Added functionality of buttons P F T R and go to end
Fixed issues in omaha calculator
Fixed issues in quick filter
Fixed the issue when tournaments data wasn't shown if filter was selected
Optimized all reports and charts