Hi everyone! This is just a quick update to let you know what we've been up to lately. We think you're really going to like it… 🙂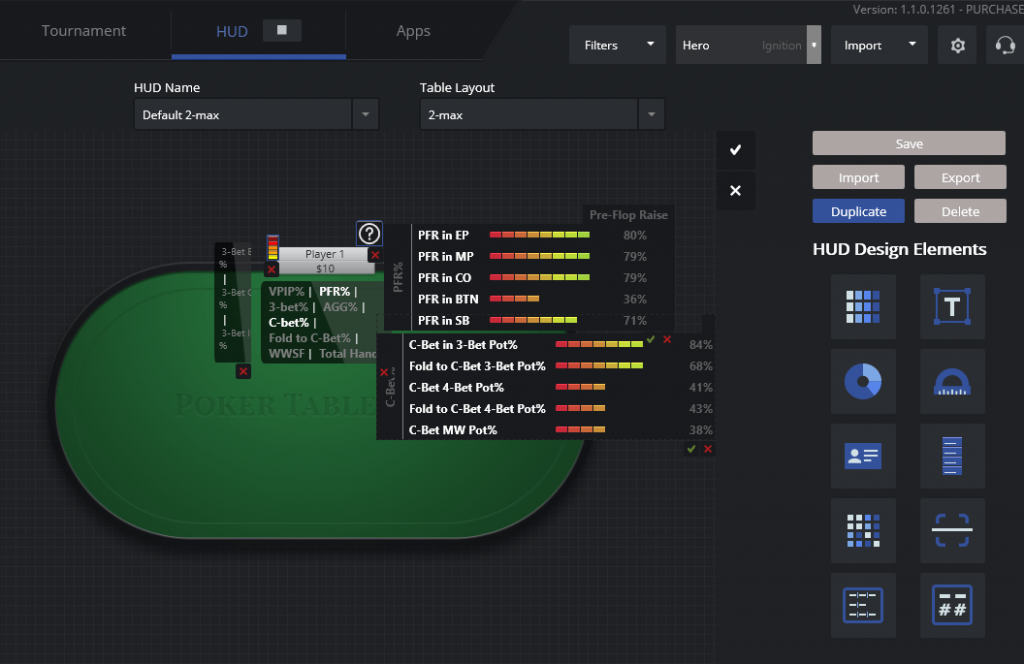 We've been working hard on a new drag and drop HUD designer and we're just about complete. We're finishing the migration process of the old HUD's to the new format, and we'll be launching our new beta here this next week. How good do we think this new process is? We think it's going to revolutionize how you think about HUD's, how you put them together, and allow you complete freedom to design whatever you can think up.
Pop-up madness
Want a new pop-up for some aggression stats? Easy. Just drag and drop a pop-up to any stat on your hud, and then drag and drop what stats you want to be in there. Rotate the pop-ups vertically or horizontally. Whatever works best for you.
Unlimited HUD Panels
Want several panels of stats surrounding your player at the table? Drag and drop as many panel elements as you want with ease. Position and click save. Sooo easy!
Heat Maps?
Yeah, we got those too. Want a quick mouse over of where your opponent's raising range is, just drag and drop that to any stat OR to any pop-up menu as well. Keep in mind, some sites like Pokerstars don't allow this.
Poker Graphs also
Want a linear graph of how much someone is winning, how aggressive they've been throughout the session, or how much they're 3-betting has progressed (think heads up poker). All of that is easily added with a drag and drop.
We haven't done an update in awhile because we've been working hard to perfect this new designer, and we're super confident you're going to LOVE it. We already do! We've been alpha and beta testing it, and it's been amazing. We'll be posting our first official beta this week in our forums… so check back soon!