New Stats, new filters, much more [Drivehud Dev update]
Happy Holidays! The DriveHUD development team wanted to bring you a few new gifts this season with some very cool updates. This is some of the highlights of what they've been up to:
– 215 new stats added to HUD and reports
– 158 new filter data points added
– Advanced poker filtering added
– Added Holdem 6+ to equity calculator and calculations
– Added possibility to change HUD in re-player
– Added reset/delete/export/import to bumper stickers settings
– Speed optimizations
So tons of new stats to add to your HUD for Christmas, and lots of new ways to analyze your poker game! There's a whole new tab in your filter section – Advanced. From here you'll have many more filtering and analysis options: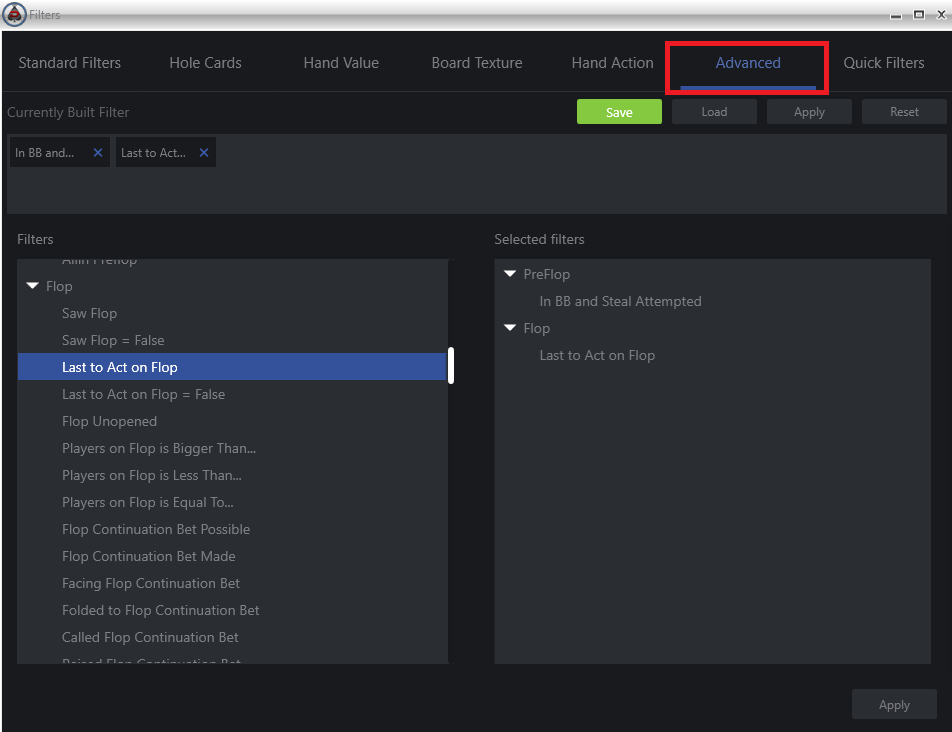 You can get the latest with all of the new changes from here:
https://drivehud.com/poker-hud/DriveHUD-install_v1.6.0.2607.exe
Happy Holidays from the DriveHUD team! 
Complete list of the new stats added:
Raise Limpers%
Raise Limpers in MP%
Raise Limpers in CO%
Raise Limpers on BTN%
Raise Limpers in SB%
Raiser Limpers in BB%
3-Bet MP vs EP PFR%
3-Bet CO vs EP%
3-Bet CO vs MP%
3-Bet BTN vs EP%
3-Bet BTN vs MP%
3-Bet BTN vs CO%
3-Bet SB vs EP%
3-Bet SB vs MP%
3-Bet SB vs CO%
3-Bet SB vs BTN%
3-Bet BB vs EP%
3-Bet BB vs MP%
3-Bet BB vs CO%
3-Bet BB vs BTN%
3-Bet BB vs SB%
Fold to River Raise%
Fold to 3-Bet in EP vs MP 3-Bet%
Fold to 3-Bet in EP vs CO 3-Bet%
Fold to 3-Bet in EP vs BTN 3-Bet%
Fold to 3-Bet in EP vs SB 3-Bet%
Fold to 3-Bet in EP vs BB 3-Bet%
Fold to 3-Bet in MP vs CO 3-Bet%
Fold to 3-Bet in MP vs BTN 3-Bet%
Fold to 3-Bet in MP vs SB 3-Bet%
Fold to 3-Bet in MP vs BB 3-Bet%
Fold to 3-Bet in CO vs BTN 3-Bet%
Fold to 3-Bet in CO vs SB 3-Bet%
Fold to 3-Bet in CO vs BB 3-Bet%
Fold to 3-Bet on BTN vs SB 3-Bet%
Fold to 3-Bet on BTN vs BB 3-Bet%
Probe bet turn%
Probe bet River%
Check-raise flop as PFR%
Float Flop then Bet Turn%
Fold BB vs. SB Steal%
Bet Flop when Checked to SRP%
Bet Turn when Checked to SRP%
Bet River when Checked to SRP%
Bet when checked to on Flop in 3B Pot%
Bet when checked to on Turn in 3B Pot%
Bet when checked to on River in 3B Pot%
Double Barrel SRP%
Double Barrel 3-bet Pot%
Triple Barrel SRP%
Triple Barrel 3-Bet Pot%
C-Bet then Fold Flop SRP%
Fold to turn probe IP%
Fold to river probe IP%
Check Flop as PFR and Fold to turn bet IP SRP%
Check Flop as PFR and Fold to turn bet OOP SRP%
Check Flop as PFR and Fold to river bet IP SRP%
Check Flop as PFR and Fold to river bet OOP SRP%
Check Flop as PFR and Fold to turn bet IP 3B Pot%
Check Flop as PFR and Fold to turn bet OOP 3B Pot%
Check Flop as PFR and Fold to river bet IP 3B Pot%
Check Flop as PFR and Fold to river bet OOP 3B Pot%
Fold to delayed C-bet%
Cold call 3-Bet in MP%
Cold call 3-Bet in CO%
Cold call 3-Bet on BTN%
Cold call 3-Bet in SB%
Cold call 3-Bet in BB%
Cold call 4-Bet in MP%
Cold call 4-Bet in CO%
Cold call 4-Bet on BTN%
Cold call 4-Bet in SB%
Cold call 4-Bet in BB%
Fold to Triple Barrel 3-Bet Pot%
Fold to Triple Barrel 4-bet Pot%
Fold to Triple Barrel SRP%
Fold to Double Barrel SRP%
Fold to Double Barrel 3-Bet Pot%
Fold to Double Barrel 4-Bet Pot%
Fold to C-bet SRP%
Fold to C-Bet 3-Bet Pot%
Fold to C-Bet 4-bet Pot%
SB Open Shove 1-8bb UO Pot%
SB Open Shove 9-14bb UO Pot%
SB Open Shove 15-25bb UO Pot%
SB Open Shove 26-50bb UO Pot%
SB Open Shove 51bb+ UO Pot%
BTN Open Shove 1-8bb UO Pot%
BTN Open Shove 9-14bb UO Pot%
BTN Open Shove 15-25bb UO Pot%
BTN Open Shove 26-50bb UO Pot%
BTN Open Shove 51bb+ UO Pot%
CO Open Shove 1-8bb UO Pot%
CO Open Shove 9-14bb UO Pot%
CO Open Shove 15-25bb UO Pot%
CO Open Shove 26-50bb UO Pot%
CO Open Shove 51bb+ UO Pot%
MP Open Shove 1-8bb UO Pot%
MP Open Shove 9-14bb UO Pot%
MP Open Shove 15-25bb UO Pot%
MP Open Shove 26-50bb UO Pot%
MP Open Shove 51bb+ UO Pot%
EP Open Shove 1-8bb UO Pot%
EP Open Shove 9-14bb UO Pot%
EP Open Shove 15-25bb UO Pot%
EP Open Shove 26-50bb UO Pot%
EP Open Shove 51bb+ UO Pot%
Limp EP & Fold to PFR%
Limp MP & Fold to PFR%
Limp CO & Fold to PFR%
Limp BTN & Fold to PFR%
Limp SB & Fold to PFR%
SB with 1-8bb Shoves over Limpers%
SB with 9-14bb Shoves over Limpers%
SB with 15-25bb Shoves over Limpers%
SB with 26-50bb Shoves over Limpers%
SB with 51bb+ Shoves over Limpers%
BTN with 1-8bb Shoves over Limpers%
BTN with 9-14bb Shoves over Limpers%
BTN with 15-25bb Shoves over Limpers%
BTN with 26-50bb Shoves over Limpers%
BTN with 51bb+ Shoves over Limpers%
CO with 1-8bb Shoves over Limpers%
CO with 9-14bb Shoves over Limpers%
CO with 5bb Shoves over Limpers%
CO with 26-50bb Shoves over Limpers%
CO with 51bb+ Shoves over Limpers%
MP with 1-8bb Shoves over Limpers%
MP with 9-14bb Shoves over Limpers%
MP with 15-25bb Shoves over Limpers%
MP with 26-50bb Shoves over Limpers%
MP with 51bb+ Shoves over Limpers%
EP with 1-8bb Shoves over Limpers%
EP with 9-14bb Shoves over Limpers%
EP with 15-25bb Shoves over Limpers%
EP with 26-50bb Shoves over Limpers%
EP with 51bb+ Shoves over Limpers%
Open minraise%
EP minraise UO-PFR%
MP minraise UO-PFR%
CO minraise UO-PFR%
BTN minraise UO-PFR%
SB minraise UO-PFR%
BB minraise UO-PFR%
EP Squeeze%
MP Squeeze%
CO Squeeze%
BTN Squeeze%
SB Squeeze%
BB Squeeze%
BB Squeeze vs BTN PFR%
BB Squeeze vs CO PFR%
BB Squeeze vs MP PFR%
BB Squeeze vs EP PFR%
SB Squeeze vs CO PFR%
SB Squeeze vs MP PFR%
SB Squeeze vs EP PFR%
BTN Squeeze vs MP PFR%
BTN Squeeze vs EP PFR%
CO Squeeze vs MP PFR%
CO Squeeze vs EP PFR%
MP Squeeze vs EP PFR%
EP Squeeze vs EP PFR%
Fold to Squeeze as Cold Caller%
4-Bet vs Blind 3-Bet%
BTN Re-steal vs. CO steal%
BTN Defend vs. CO Steal%
SB Fold to Steal%
BB Fold to Steal%
SB Call Steal%
BB Call Steal%
SB Fold to BTN Steal%
BB Fold to BTN Steal%
SB Fold to CO Steal%
BB Fold to CO Steal%
SB Call BTN Steal%
BB Call BTN Steal%
SB Call CO Steal%
BB Call CO Steal%
BB overcall BTN Steal%
Total overcall SRP%
WTSD as PFR%
WTSD as PF 4-Bettor%
Call 4-Bet IP%
Call 4-Bet OOP%
Call 4-Bet EP%
Call 4-Bet MP%
Call 4-Bet CO%
Call 4-Bet BTN%
Call 4-Bet SB%
Call 4-Bet BB%
Limped pot Flop Steal IP%
Flop Check-Call%
Call Flop & Fold Turn%
River Fold in SRP%
River Fold in 3-Bet Pot%
River Fold in 4-Bet Pot%
Delayed Turn C-Bet in 4-Bet Pot%
Delayed Turn C-Bet in SRP%
Skip Flop C-Bet SRP & C/F Flop OOP%
Check-Raise Flop as PFR SRP%
Check-Raise Flop as PFR 3-Bet Pot%
Open Limp EP%
Open Limp MP%
Open Limp CO%
Open Limp BTN%
Open Limp SB%
Check Straddle%
PFR Straddle%
3-Bet Straddle%
4-Bet Straddle%
Fold Straddle Pre-Flop%
WTSD from Straddle%