Wait… What?
A HUD Store?
That's right! Just like Google has Play Store and Apple has the App Store, the DriveHUD team is proud to bring you the HUD Store.
It's included in the latest
build
if you haven't checked it out already!
As part of our commitment to continually improve the quality of our customers' poker experience, the DriveHUD team released this update a few days back.
And it rocks!
So what's in store for you?
Remember the HUDs that you designed in DriveHUD? You can now upload them to the community.  Heck, you can even put a price tag on it if you want! I'm sure you're itching to design your own HUDs and show it off – maybe even make a couple of bucks.
You can do the upload directly from the designer screen, or you can do it from the store. Your choice.
AND…We've even added a few HUDs for different games, which you can download.
For FREE.
And more arriving your way in the coming days, so watch out for it.
Simply click on the 'APPS' tab, and then click 'HUDs', and you'll be taken to the all-new HUD store. Explore and have fun!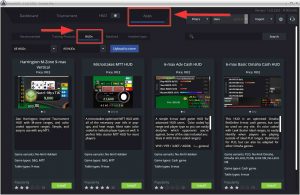 A note though; Customer commercial HUD upload isn't fully released YET, but we are working on it. However, you can enjoy free uploads and downloads now.
So take DriveHUD for a spin and see the HUD Store for yourself.
You can download the latest version
here
.