DriveHud
Online poker tracking is very important in most of the modern online poker forms. To survive and thrive as a player, you must have the tools to analyze your game and understand your opponents' strategies. Only this way, you will be able to have more chances of winning; if you are putting in any money, you will earn more money.
Tools and software such as Poker HUD allow you to get the know-how of your opponent even before you start playing. This is because the games of intuition and luck are actually the games of habits and numbers. And if a tracking tool transforms the habitual moves of your opponents in form of numbers, and presents them to you in easily understandable stats, it becomes a walk in the park for you to play against them, and most probably beat them.  Hence, a poker tracking tool or a poker HUD is a must-have, especially if you are a professional player, or even a recreational player putting in some money in the game.
Which poker tracking HUD is the best?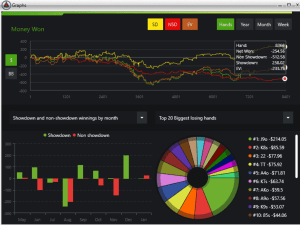 There are countless options when it comes to choosing one for yourself. The market is filled with all the different kinds of Poker HUDs and tracking software. And as usual, all of them claim to give the best user experience; best features, best price, and the best return on investment. However, when you do some research, you come to know that all the analysis, user reviews, and feedback suggest that there is not a single tool that can be best for all types of poker players, all poker platforms, all operating systems, all the geographical regions and all the different type of poker games.
The question remains there then; which poker tracker would be the best for you? The answer is any poker HUD that fulfills most of the features discussed above. The top three features that differentiate between a good poker HUD and a better Poker HUD are usability, price, and user reviews.
DriveHUD Poker Tracking
DriveHUD is an all-in-one platform that provides you with a HUD and many other tracking tools; so that you get a complete grip on your game. The DriveHUD software package grows and evolves each day with the ever-changing needs of online poker. It provides different tools so that you could track your poker games on different platforms and different operating systems.  It covers most poker databases, game types, poker rooms, and poker websites of different geographical regions such as European rooms, Asian rooms, and American rooms.  DriveHUD also provides you with emulators so that you could track your games even on incompatible systems and devices.
Other salient features include a free trial for extended periods where you can enjoy all the premium features and only confirm the purchase if you are fully satisfied with the performance of the Poker tracking HUD.
Therefore, there is no reason why you shouldn't give DriveHUD a try before you finalize your HUD.