Even the best players sometimes seek help from online tools to score better. There are hundreds of online tools available for learning how to get the best scores and one shouldn't feel shame in finding these tools to improve your gaming expertise and winning rate. Poker player tracking is one of the important tools that every poker player online should have.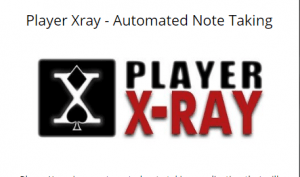 Here are some of the best tools that might help you to up your game and score better every time you play:
SharkScope:
The tool is working since 2002 to collect information on online Poker Players tracking. It works to collect statistics from major poker clients and track their records. It is best in a sense that it provides you a complete information i.e. ROI and average stakes without even knowing about a player.
PokerTracker4:
The franchise is working since 2012 and providing the tracking results and hand history, statistical data analysis, automated poker player tracking with Note Tracker, dynamic HUD, and ROE calculation.
Advanced Poker Training:
This tool will help you sharpen your skill as a poker player via advanced player training. Moreover, it helps the player by running through numerous developments and putting their best skills to the test. The best is, a site has 20 advisors to provide you online guidance.
PokerJuice:
This platform will help you to play with old western ways of playing poker. With this, a player can create a hand to test different possible outcomes. The platform is slightly expensive with monthly subscription rates.
Being a poker player, you might have a self-judgment or a tracking approach about the expert poker players around the globe or on track going with pace.Many forums have issued the top poker players tracking list defines their winning ratios. You might have been disagreeing with these names because every player has its own opinion about who is the best player in the business.
Poker Player Tracking – Top Best Poker Players
The best poker players of 2018 are:
Daniel Negreanu with $34,151,327
Erik Seidel with $33,333,457
Antonio Esfandiari with $27,096,274
Fedor Holz with $26,746,838
Phil Ivey with $23,466,348
Phil Hellmuth Jr. with $21,461,350
John Juanda with $23,418,600
Sam Trickett with $20,766,881
Bryn Kenney with $20,445,343
Steve O'Dwyer with $20,286,465
Show your Poker Arrogance
You can use any poker tool to get hands-on experience and expertise. By using these tools, you can have fun by letting your competition and friends know that you're crazy about winning your home game also it will help refine your playing hands going onward. Being able to prove your friends that you have done right play will make them all-in shove on the turn.
In the End, you can best use DriveHUD's pre-defined player types profile to easily identify whether you're playing against a tricky LAG opponent, a whale, a regular, or those yummy fish. Create unlimited player type profiles based on opponents stats quickly and easily!
It will help you in a much better way to start with great skills and knowledge about game and opponents. DriveHUD is easy to use and you will get all the information at your fingertips. Create a quick reference with us and invite your friends to get in more fun.