The internet is not short of online platforms and channels that will teach you to improve your online poker tracking. Sometimes these learning are useful and sometimes a bit daunting for a person who has just started online playing poker online. Yet, not all the information available on the internet is worthy; it might even be too complicated to understand. Some of the online platforms are harmful to your progress. This article will build your understanding of what tools might be effective and what might not be useful for you during online poker tracking.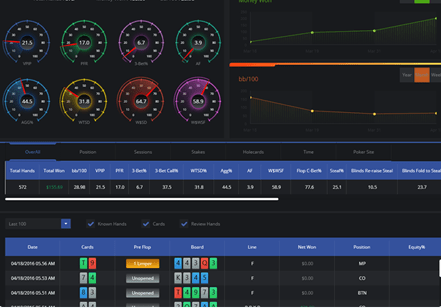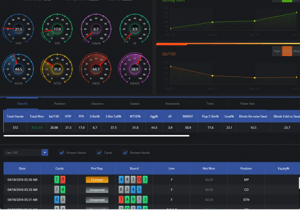 Don't spend too much time researching online poker tracking
The main point to remember is to just play and making money. This is not a smarter approach to just sitting around to watch, read and talk about playing. Learning basics at the initial stage can help you out and DriveHUD is certainly one of the best platforms to learn how to play. When you play over and over again, and then you will tend to face the same situation in every game again and again, only then you will know how to tackle a certain situation.
Effective use of information
You can track your poker with poker tracking programs either paid or free. DriveHUD suggests that you get familiar with one of the program as soon as you get an understanding of the game or a little bit experience of playing online. You don't need to rely on these programs if you don't want to in a longer run.
It is a common thought that HUD's main feature is to track the results of a player, that's the whole point of these programs. Yet, this is not true. The best and main feature of online poker tracking software is the ability to filter different scenarios. It will provide you the accurate data of large sample doesn't matter you are winning or losing the league.
Let take an example to get a better understanding of it. If I am a player and my profit graph is moving up then my winning rate is high and I will continue my pace. If I am not performing well and in a red zone then I might reconsider my strategy to see some specific hands due to which I am losing.
Refer training videos
There are a lot of videos training sites which provide free trials or videos teasers. Poker learning is being revolutionized by the training videos. This industry is booming since last ten years because of the advancement of learning channels. This modernization allows the player to learn more and improve their gaming skills. It will help to get into the strategy of a top winning player that how he plays with what kind of approach.
Chances are high that you won't get appropriate results by trying these online videos in your own game. If you are thinking that your earnings simply fly by adopting the strategy of online video tutorial then you might be busted in real online game. These tutorials do not define the competition. Likewise, there are some very simple games that won't need a high-end strategy to follow which online videos tutorial suggests you. We suggest you join the training forum that has plenty of current content made by coaches who actually play in the games that you play in on a regular basis.