For online poker enthusiasts, using third-party software during poker matches is no more a surprising phenomenon. Players of all professional levels and game types are aware of the fact that third-party poker software is very helpful in boosting the game performance and earning better profits. In this article, we will tell you about the best free poker software that is used and loved by all online poker players.
Best Free Poker Software
The factors that we have considered while categorizing the best free poker software include features, user-friendliness, software speed and load on the device, etc.  So let's get on with the list right away.
DriveHUD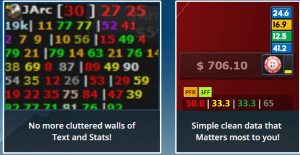 We proudly present DriveHUD on the top of the best free poker software list. We do it because we are confident that DriveHUD's features compete with any poker tracking software out there in the market.  With the help of DriveHUD, you can track all your hands that you play online. DriveHUD is fully loaded with features that allow you to get an upper hand over your opponent; every time you play a hand. The features include a poker HUD overlay over your opponents; and graphs that are full of information yet easy on the eyes. Also, the replay feature that allows you to replay every hand you played and analyze your performance, and much more. DriveHUD is compatible with most of the prominent online poker platforms such as Bovada and BetOnline Poker.
Jivaro
Jivaro is a new competitor in the market with promising reviews from the users. Developed by an Icelandic company of 20 members, Jivaro is a HUD that provides useful stats and features to give better control over online poker.
Jivaro is liked by the users for being fast and easy to use. However, there are a few drawbacks to the HUD as well. First, the HUD only works on PokerStars. This means that players using other online poker platforms cannot benefit from this HUD. Secondly, the free version only has some basic features that don't benefit the players much in real games.
PokerTracker
PokerTracker is one of the oldest online poker tracking software. Equipped with all the required features, PokerTracker provides everything that an online poker player needs to have an upper hand in the game. The software is fully customizable; this means that you can choose the features you want on the interface.  It is compatible with most of the online poker platforms. Moreover, the software is compatible with all the operating systems including Mac and Windows.
For new users of third-party poker software, the experience with PokerTracker might be a bit overwhelming. As the software is fully loaded with features, new poker players find it a bit complex thing to handle.  All new players want is a simple and straightforward interface that is not cluttered so much yet provides all the features required to have complete control over the fame. Although PokerTracker has all the required features, it is a great challenge to remain simple while catering all of the features.
We will continue expanding this list as we review more and more software available in the market right now. For now, try these software and let us know about your experience.