Despite these trying times, the poker industry is still pushing to greater heights and online poker is no exception. Having said that, we hope you and your families are safe and well. As for your poker games, we also want them to level up that's why we've brought back a DriveHUD 2 feature that'll surely help you do that.
Custom Stats are Back!
We've added back the ability to create custom stats in DriveHUD 2. You can use them in reports, HUDs, and R&D (beta feature).
Not only that, there's also some cool new features and functions in the HUD designer section, mostly in the pop-up designer. You can add borders to cells, merge, and add text directly into the cell itself by double-clicking. It's all-around easier and more customizable.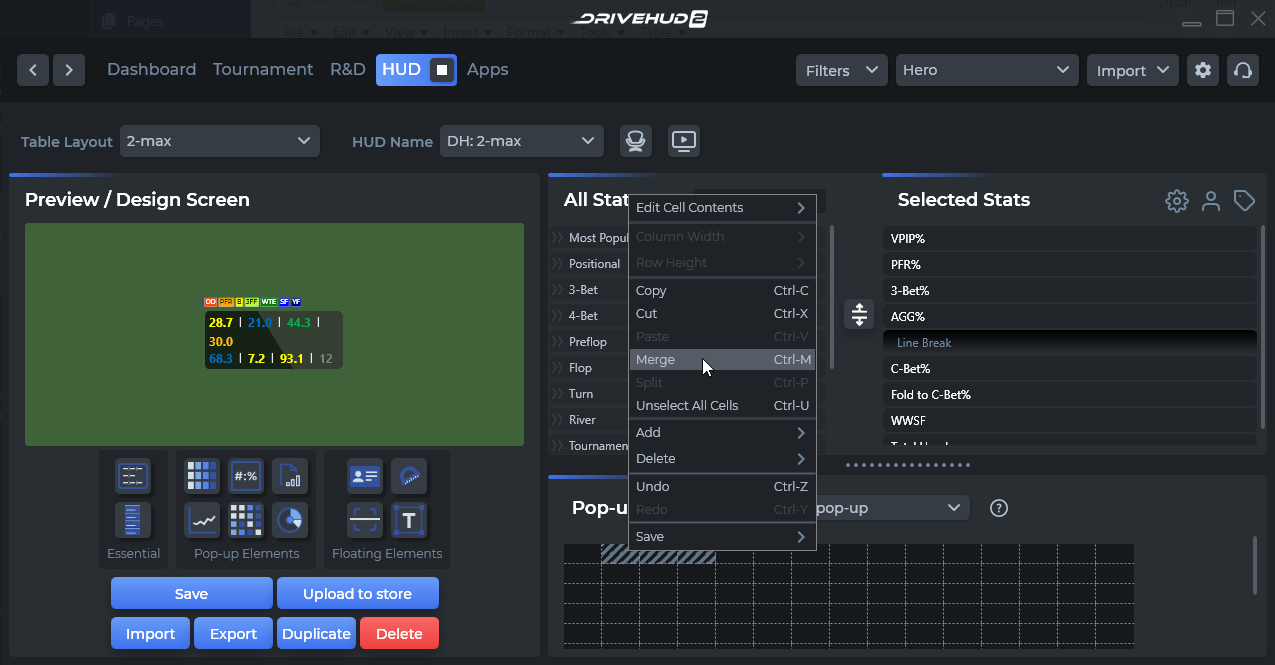 Try it for yourself and share your thoughts with us!
Full log of new features
DriveHUD 2 Beta Update – v2.0.2.7092:
Please note that if you update to this version, you cannot downgrade, as it will update your HUDs, R&D's, etc…
https://drivehud.com/poker-hud/DriveHUD2-install_v2.0.2.7092.exe
New HUD Designer features:
Added cell multiple selection.
Added edit row/column height/width sub-menus.
Added variable row height.
Added cell's text vertical alignment.
Added setting background for empty cells.
Merge/split cells.
Added help icon with full hint.
Added border support for cells.
Added new built-in stats:
Check-Raise flop & Bet Turn
Fold Turn After Calling Flop Check-Raise
Fold River after calling flop Check-Raise and turn barrel
Check/Fold Flop as PFC SRP
Check/Raise Flop as PFC SRP
Fold to Turn C-Bet as PFC
Fold to River C-Bet as PFC
Flop C-Bet SRP HU IP
Flop C-Bet SRP HU OOP no SB-BB
Turn C-Bet HU SRP OOP
BvB SB C-Bet Flop SRP
BvB SB X/F Flop SRP
BvB SB Flop Bet SRP
Fold to Raise
BvB BB Fold to Flop C-Bet
BvB BB Raise C-Bet
BvB BB Fold to Turn C-Bet
BvB BB Raise Turn C-Bet
BvB BB Fold to River C-Bet
Upcoming:
Some new features for the replayer including larger screens with new dark modes.
Population overlay data in R&D reports.
Expanded opponent report data.