Do you really need a poker hud?
There's been a bit of conversation, and even controversy over the last couple of years about the use of poker huds on online poker sites. There's some people who are adamantly opposed to the use of them, and even claim they are destroying the online poker games because of the increased sophistication of poker huds, databases, and poker software in general. And while some online poker software has over stepped it's bounds in my humble opinion, poker hud's and databases are not the reason games have become tougher online over the years. Governments cracking down on banks and online poker sites are the primary cause of the increased difficulty in the games, coupled with the access to more information and training about how to beat the games, than ever before.
So, back to the question. Do you need a poker hud? Spoiler alert: We sell poker HUD's. 🙂 But that aside, I resoundingly say yes. They are indispensable tools in my humble
opinion for many reasons. They make learning about the game more enjoyable, tracking results much easier, and are great tools for sharing and discussing hands and difficult poker hands with your poker friends.
Poker being the game of incomplete information that it is, you're only at a disadvantage when someone has more information to interpret and use than you do. If I gave you a jigsaw puzzle to solve that was apart, and said, "You have 10 minutes to put this puzzle together. Would you like to have the box cover that shows the picture of the jigsaw puzzle you're trying to solve, or would you prefer to do it without?" I'd hope you'd have enough common sense to take the box cover. Why? You now have more information to solve your puzzle. You can still do it without the box cover, but your chance for success drops significantly without the box cover to reference, especially if you have a time frame to do it in.
Poker HUDs make the game more fun
It only makes sense
that HUD's are a necessity for online play. They provide more information, in a game that is designed around logic and reason to process the best and highest expected value (EV) play as consistently as possible. There are people who are "anti-hud", for several different reasons, and I could break down the fallacies of any of those reasons that I've heard about on the internet over the years. However, the bottom line thing for people to realize is, live poker is NOT online poker.
I think if you come to accept this fact, and that how the game plays and that the strategies and strengths that shine in each of these games is slightly different, you can come to terms with the fact that HUD's are ok for the game, and they in fact have moved the game forward in many ways over the years. They've allowed people to play more tables simultaneously, which in turn has generated more profit for poker sites, which in turn has allowed them to sponsor and advertise more, which in turn has created more awareness and increased the popularity of poker over the years.
HUD's are not a secret. They are available to each and every person who plays online poker. You don't need to be in any secret club, other than knowing how to google. If you were to take up archery, with the desire to become a very good archer, you'd want to read up, research and understand about every advantage you can have for your bow, your equipment, and releasing strategies. If you didn't, you'd just become average at best. The same goes for online poker or any endeavor that you want to be good at. It's incumbent upon the student to find the best learning materials and teacher. These things won't just magically appear for you.
Personally, having played online now for well over a decade, I can say I've taken a ton of pleasure in setting up my HUD's. Figuring out what stats I do and don't want to use. Which ones actually add useable value at the table, and which stats just become clutter over my poker table. I consider it an art, and there's a reason people now sell poker hud configurations you can plug into databases with tons of stats and color ranges. It takes time, intellect, and skill to create and use them properly.
Most importantly, I love what the HUD's produce after my sessions are complete. I can analyze, run filters, equity equations, and re-play hands so that I really learn about a hand situation more deeply. It's a real nerd fest after each session, something I'm quite proud of doing in order to perfect my art.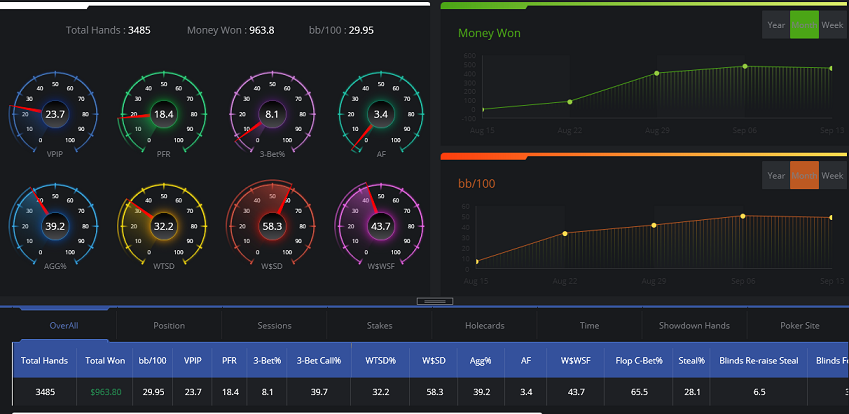 In the end, if a HUD isn't for you… hey, that's great! To each their own. But I'd ask you to respect the views and reasons of those who do enjoy using them, just like I respect your opinion. I'm not just saying that because I sell a HUD now. I've always felt this way, well before even one line of code was done for DriveHUD. You're smart and can decide what's best for you as an individual, but I personally think you're doing yourself an injustice by not using one, and at the very least, be tolerant to those who choose to use one. Poker HUD's have been a catalyst for expanding the reach and scope of poker over the globe. I hope we can all embrace these changes as poker continues to evolve. And if there's something about a HUD that is damaging the game in any way, I'll be the first on the front lines with you, exposing and helping to reform them.
Good luck at the virtual poker felt my friends!